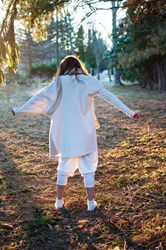 New York, NY (PRWEB) January 17, 2014
Miakoda is an ecologically friendly, vegan, and socially conscious clothing company whose mission is to put compassion back into fashion. At the heart of Miakoda lies the deepest commitment to providing clothing to connect us all to the deep freedom inherent in our existence. All of Miakoda's pieces are proudly made in the USA with entirely compassionate and organic materials. No animals, people, or places are harmed in production.
Started by Julia Ahrens, a fashion designer, and her sister Laura Ahrens, a yoga teacher, Miakoda is an extension of their deepest beliefs. All clothes are imagined and designed by Julia, including the hand-drawn patterns. The crocheted garments are handmade by Julia; all other garments are created fairly in a factory in midtown Manhattan.
Miakoda chooses to use hemp, organic cotton, bamboo, and other alternatively sourced materials so that the garments are not only safe for the world, but for the people who wear them. For those who want to make gentler choices, Miakoda provides a chic alternative to the exploitations of the fashion industry without compromising beauty, function, and fashion.
To order or to find out more about their practices and processes, visit http://miakodanewyork.com.