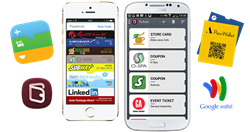 Direct marketing with Mobile Wallet is simple and effective at reaching millions of customers at a fraction of the cost of other mobile options (SMS, app, website).
San Francisco, CA (PRWEB) January 17, 2014
PassKit reduces all barriers to entry into 2014's most effective direct marketing channel, the mobile wallet. Starting at 29 USD per month for 10,000 passes, businesses have access to PassKit's pass configuration tool that seamlessly delivers digital content across native mobile wallet platforms*. This opens the potential to generate thousands of viral leads that can be transformed into sustainable, active revenue-generating customers.
"We've been connecting with Marketing Managers globally and they see the Mobile Wallet as the direct marketing choice for 2014." - Paul Tomes, CEO PassKit
With PassKit's highly efficient and scalable cloud infrastructure, the move to increase pass volume by over 6000% was a simple decision, thereby removing business concerns around pass volume limitations.
For any business, control is LIMITLESS with each dynamic pass delivered to their customer's mobile wallet: it can be turned on and off at any time, updated multiple times and used to send targeted notifications that drive customer action.
In 2014, PassKit continues to drive user acquisitions and extend customer life cycles by providing the highest level of support resources and advisory services. This includes more valued content on tech education, marketing strategies and assistance with mobile wallet implementations.
Connecting with customers has become more effective with the global spread of smartphones and the integration of mobile wallets. Marketers wanting to unravel direct mobile marketing can trial PassKit's configuration tool to witness how the mobile wallet transforms potential leads into sustainable, revenue-generating customers.
To trial PassKit: create.passkit.com. For details on PassKit offerings: passkit.com/pricing.
*PassKit supports Apple Passbook, PassWallet, Google Wallet and Samsung Wallet. Please note Google and Samsung Wallets are only available in the US and other restricted regions.
PassKit is the mobile wallet authority through its innovation, experience, technology and insight. Its core objective is to remove all barriers for any business moving into the mobile wallet space.
With over 19,000 customers, issuing over 1 million passes since September 2012, PassKit provides users a simple solution to instantly access the feature rich capabilities of native mobile wallet apps. More information can be found at Passkit.com.
Media Contact: Art Lee (415) 713-6889