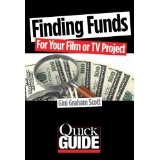 The Investing Connection helps entrepreneurs find the money.
San Francisco, California (PRWEB) January 16, 2014
The Investing Connection was just launched in response to the thousands of new start-ups seeking funding, especially in the Silicon Valley and San Francisco Bay Area, in order to help them find the needed funds. The Company helps them write an effective letter and then sends it to venture capitalists and angel investors who might be interested in that type of investment, which is targeted based on the company's industry, state, and type and level of funding needed. Then, interested investors respond directly to the company.
The Investing Connection is a spin off of a company that was founded 11 years ago by Gini Graham Scott – now called the Publishing Connection – that was developed to help her find publishers and agents for herself, resulting in the sale of a dozen books to publishers. Write ups in the Wall Street Journal and Contra Costa Times helped the company become a booming success, with over 1000 clients since 2003. Since then the original company has expanded to help screenwriters and filmmakers sell scripts and distribute films (the Film and TV Connection:) and and contact the media (the PR and Networking Connection:), as well as find investors.
Now the new company has been invited to give a presentation about its services to the Startups (Shark-Tank) Showcase Demo-Pitch Night on Friday, January 17 at the Temple Bar, 540 Howard Street, in San Francisco. There will be about 1000 attendees at this free event, which starts at 6 p.m., with 2 minute pitches from a dozen companies starting at 7:30 p.m.
Besides describing how its services can help entrepreneurs and company owners, the Investing Connection founder Gini Graham Scott will also be doing a pitch for the Suicide Party Film Project 0 which deals with inequality, the loss of the middle class, and economic suicide, since the film is about a man about to lose his house and everything he holds dear. His dire straits lead him to put on a suicide party with the help of friends; if he raises enough, he'll live; if not he'll end it all, leading to a media frenzy and unexpected results. The film has recently gone into pre-production with a director Jack Skyyler and two laad actors Glenn Praesel and Tom Malloy with over 30 feature film credits between them, and distribution is now being set up with several distributors. The film has already raised $20,000 towards its $35,000 budget, and the pitch at the Startups Showcase is to interest investors in contributing the remaining funds for this and for additional low-budget short films that combine an entertaining film with social issues, from racism to road rage. The Suicide Party: Project 0 film will feature the same found footage approach of many low-budget popular films, such as Paranormal Activity, and it is expected to be released in September. Additional information on the film is at http://www.gofundme.com/suicide-party , which has been set up to for investors, not for raising small amounts of money from contributors, and at http://www.suicidepartyfilm.com.
The founder of the Investing Connection and the writer/producer of Suicide Party is Gini Graham Scott, the founder of Changemakers Publishing and Writing. She is the author of over 50 published books with major companies and 30 books published by Changemakers Publishing, her own publishing company. She also writes books and scripts for clients. She has spoken about the topics of her books to many groups and the media, including appearances on Good Morning America, Oprah, and CNN. She has a PhD in Sociology from U.C. Berkeley, a JD from USF Law School, and 4 MAs in Anthropology, Mass Communications, and other subjects from Cal State, East Bay. She is pursuing a fifth MA there in Communications.