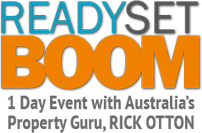 ...if taking out new loans is too difficult for people starting out, why not use the financing that's already in place?
(PRWEB) January 19, 2014
"When buying property, most people look towards home loans for financing. However, first home buyers are finding it more difficult to qualify for a home loan. The most common barrier for many of them is saving enough money for a deposit," shares Rick Otton, the pioneering mind behind creative real estate strategies.
Latest figures from the Bureau of Statistics reveals that out of all the home loan applications approved last November, first home buyers only represented 12.3 percent of owner-occupied home loan commitments. The Commonwealth Bank said that first home buyers normally make up for 20 percent of home loan applicants, (Abc.net.au reported on 13 January 2014).
"If there was one thing that the global financial crisis should've taught us, it's that we can't solve new problems with old processes. Higher cost of living and rising house prices mean that young people who are still starting out in their careers will need more time to save for a deposit and qualify for a bank loan. And when they think they have enough, home values rise again and they have to save more. It's a never ending cycle and the traditional processes make it very difficult for the next generation to realise their dream of home ownership," Mr. Otton commented in a recent interview for his brand new live training event Ready Set BOOM.
"Given the current situation, it's very important for people to think creatively and come up with new solutions to modern day dilemmas. And if taking out new loans is too difficult for people starting out, why not use the financing that's already in place?" he explained further.
Mr. Otton then shared to home buyers around Australia that rather than go to the bank and apply for a new home loan, they can use creative strategies as a stepping stone into home ownership.
"With the help of creative strategies, buyers get more flexibility in paying for houses for sale. This simply means that you don't have to pay a large amount of deposit just to get your foot in a house and you can pay for the house in reasonable intervals agreed upon with the seller," he said.
Visit http://readysetboom.com.au to learn more information about Mr. Otton's brand new property investing event "Ready Set BOOM".
About Rick Otton
For over 23 years property millionaire Rick Otton has built an impressive real estate portfolio using innovative strategies that he has developed – strategies in which transactions are made without the need for traditional bank-type loans.
He constantly refines his techniques as he buys and sells properties through his We Buy Houses business which operates in Australia, New Zealand and the UK.
A gifted speaker and educator, Mr Otton conducts regular one-day free seminars across Australia, which build on the the concepts he shares in his 2012 book 'How To Buy A House For A Dollar', voted by Money Magazine and Dymocks Book stores as one of the Top 10 Most Popular Finance Titles for 2013.
He regularly records and publishes iTunes podcasts via his channel Creative Real Estate.
His innovative low-risk, high-reward approach to Australian real estate investing has been featured in a variety of television programs and magazines, including Today Tonight, Hot Property and Australian Property Investor.
To register for one of Mr Otton's free Australian one day seminars visit ReadySetBoom.com.au or phone, in Australia, 1300 888 450.