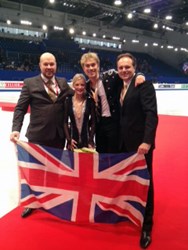 Sheffield, Yorkshire (PRWEB UK) 18 January 2014
And the achievement was all the more remarkable considering Buckland's season looked in doubt after he had to undergo a heart operation just a few months ago.
Coomes and Buckland are the first British medallists at the event since former training partners Sinead and John Kerr finished third in 2009 and before then you need to go back to Jayne Torvill and Christopher Dean's gold in 1994.
Penny said, "We'd worked really hard in training, so I just put everything out of my mind. We had good support from the crowd."
The European Championships are the final event for Britain's skaters before next month's Olympics, with the team figure skating event beginning on 6 February, one day before Sochi 2014's opening ceremony.