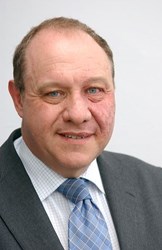 David has brought a wealth of expertise in academic leadership and healthcare governance.
(PRWEB UK) 17 January 2014
Professor David Sines CBE announces his retirement as Pro Vice Chancellor of the Faculty of Society & Health at Buckinghamshire New University.
David Sines, Pro Vice Chancellor and Executive Dean for the Faculty of Society & Health at Buckinghamshire New University, has formally announced his retirement. He will leave his post at the end of March 2014 after five transformational years driving the University's leading healthcare provision. David was awarded a CBE for Services to Healthcare in the Queen's Birthday Honours List in 2010.
The Buckinghamshire New University extensive health and social care portfolio includes undergraduate and postgraduate nursing, operating department practice, primary care and public health, policing, criminology, social policy, psychology, education and social work. The University is the largest provider for pre-registration nursing education in London. The Faculty has thrived under Sines' strategic leadership and has become a provider of excellence in world class public sector education and scholarship.
Formally affiliated to, and a member of two academic health science networks in Oxford and North West London/Imperial College, the University is at the centre of healthcare policy debate and contributes actively to governmental reform and public sector service improvements which it has helped to create. During the past four years the Faculty has attracted a range of expert academics and clinicians who together have significantly raised the profile and reputation of the Faculty, generating confidence amongst employers to secure a 95% employment rate for graduating health and social care students.
Bucks New University has attracted major nursing contracts since Sines' leadership began in August 2009 and a dedicated healthcare campus in Uxbridge, West London, has been created. This expansion has driven a 40% increase in the Faculty workforce and the award of specialist contracts has resulted in an 80% rise in income as well as the doubling of student numbers to service its awarded contract provision. The University's footprint in North West London has expanded to cover 8 of the 31 London boroughs and Thames Valley, positioning it at the forefront of the non-medical healthcare education market in London and the Home Counties in the Thames Valley.
The role of Pro Vice Chancellor is a pivotal one for both the University and its Faculty's external partners and to secure a smooth and effective transition, Sines will work closely with his successor and will continue his association with the University in an advisory capacity until December 2014.
David looks forward to continuing his association at Bucks in his role as strategic adviser. He will also continue with his charitable work and his responsibilities as a Non-Executive Director with two NHS trusts, Buckinghamshire Hospitals NHS Trust and Central London Community Healthcare NHS Trust.
Professor Ruth Farwell, Vice Chancellor of Buckinghamshire New University said: "David has brought a wealth of expertise in academic leadership and healthcare governance to Bucks New University which he enthusiastically shared with his senior team.
"Under David's leadership the Faculty has gone from strength to strength and David's vision, supported by the hard work of his colleagues in the Faculty, has enabled us to achieve the prominent position in the health and social care sector that the University enjoys.
"This leaves the Faculty exceptionally well placed to work closely with the new Pro Vice Chancellor and continue to deliver the legacy of excellence in higher education and its application in practice with national and international employers. I would like to thank David on behalf of the University for his hugely valuable contribution and wish him a very happy and fulfilling retirement".
Editor's notes
Buckinghamshire New University has enjoyed a long and successful history since it was founded in 1893. The University offers an extensive portfolio of courses spanning the creative and cultural industries, the management and information management sectors, and the public sector. It also offers services to industry including contract research, consultancy and the opportunity to employ graduates.
The University has a state-of-the-art building in High Wycombe known as the Gateway, which comprises a learning resource and technology centre, events hall, gym, sports science laboratory, dance, drama, music and video production studios, library and meeting rooms. It also offers a growing provision of student accommodation in High Wycombe; and a thriving base for nursing students and applied healthcare research in Uxbridge, West London.
Its alumni include television star Noel Fielding and London 2012 Paralympic and Olympic medallists Naomi Riches and Chloe Rogers, and it has bestowed honorary degrees on well-known figures including Fern Britton, Terry Wogan and England Rugby World Cup winner Lawrence Dallaglio.
Website: bucks.ac.uk
For further information, details and images contact Dean Valler, Communications Officer at Buckinghamshire New University, on 01494 601 636 or 07920 212 937 or email dean.valler(at)bucks(dot)ac.uk.