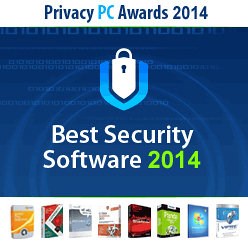 (PRWEB) January 18, 2014
IT experts of the Privacy PC online project conducted an in-depth evaluation of security software representing major industry clusters, and came up with a well-founded rating for the year 2014. Based on the criteria reflecting the most valuable and desirable features, a team of professionals singled out clear winners in each category, including antivirus, Internet security, antispyware, encryption software, online privacy utilities and three more groups. By reviewing the details on Privacy PC award winners, users can benefit in both acquiring knowledge about the relevant software and the opportunity to directly download the necessary programs.
Founded in 2003 as an enthusiastic yet ambitious project, Privacy PC has since grown into an authoritative resource dedicated to highlighting issues about online privacy, hacking countermeasures, computer security industry news, malicious software combatting, and adjacent areas of expertise within the security awareness enforcement realm. An important constituent of the project's mission is software testing according the latest industry standards. Additionally, the resource covers non-trivial cybersecurity subjects raised at popular InfoSec conferences such as Defcon, Black Hat, DeepSec, DerbyCon, HITB Sec, etc.
"To provide computer users with a unique insight into the best security software of 2014 whose high efficiency will undoubtedly make their day, we have determined the leaders in nine prevalent categories: antiviruses, Internet security suites, premium security suites, antimalware/antispyware, mobile security software, free antivirus software, Internet privacy software, encryption software, and password managers," – stated David Balaban, Chief Editor of Privacy PC.
The software rating has been formed in accordance with the following benchmarks: usability, features, efficiency, help & support, and pros/cons. The utilities tailored for virus detection and cleanup have been tested in real-world malware infection scenarios. For a broader outlook and greater objectivity, the security software reviews also include references to respective research by independent third-party institutions such as AV-TEST, AV-Comparatives, and Virus Bulletin. Users can directly navigate to the Privacy PC product reviews and download the award-winning applications in one place without having to waste time browsing anywhere else.
To learn more about the ratings, visit http://privacy-pc.com/news/best-security-software-2014.html.
Users and professionals interested in additional details about Privacy PC software evaluation initiatives and cooperation should contact David Balaban at http://privacy-pc.com/contact.