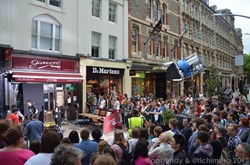 It's wonderful that the shows dedicated fans have got so involved.
Cardiff, South Wales (PRWEB UK) 18 January 2014
Fans gathered in their thousands hoping for a glimpse of Benedict Cumberbatch and Martin Freeman when the BBC began filming their much anticipated third series in Cardiff's iconic Giovanni's Restaurant back in August 2013.
When the BBC approached restaurateur Giovanni Malacrino to ask whether they would be able to use his successful Italian restaurant as a filming location, he was delighted. None more so than when he was offered a walk on part in the series' 3rd episode!
To celebrate the restaurants involvement, Giovanni had generously offered fans the opportunity to win dinner for two on the scene that Benedict Cumberbatch and Lars Mikkelsen filmed their tense encounter, however as the competition has proved so popular he's now extended the competition for a week and will be giving away 50 prizes!
Ten lucky Sherlockians will win dinner for two with a bottle of wine in the very spot that the scene was filmed, with a further 40 receiving a voucher for two to enjoy the dish that Sherlock ate with a glass of wine at the restaurant. To be in with a chance of winning fans must simply visit http://www.giovanniscardiff.com and answer one easy question.
Since the competitions launch on Monday 13th January the giveaway has gone viral, being retweeted by Sherlock cast member Elizabeth Coyle (who played Miss Sutherland) and fan clubs all over the globe to in excess of a million twitter users. Entries have been flooding in with almost 1000 being received within 24 hours of its opening from entrants as far as the USA, China and Australia and showing no signs of slowing! Undefeated world champion heavyweight boxer Joe Calzaghe who is also a huge Sherlock fan has also retweeted it to his quarter of a million fans.
Giovanni said, "I had no idea the competition would create such a buzz on twitter! It's wonderful that the shows dedicated fans have got so involved with sharing the give away across their communities. Filming the likes of Sherlock and Doctor Who is doing huge amounts to raise the profile of Cardiff and it's really getting the city out there as a tourist destination. I can't wait for them to start filming the next series."
He adds "It was amazing to watch both Benedict Cumberbatch and Lars Mikkelsen in action."
Giovanni has over the years played a vital part in the regeneration of Cardiff, including him leading the development of Mill Lanes Café Quarter which has in turn brought new businesses and customers to the city centre. He is also used to looking for and looking after hundreds of celebrities, including Sir Tom Jones and Pavarotti and says that both actors got high scores as great people, as well as great actors.
Giovanni says, "2013 was a big year for us, with 2014 looking set to be even bigger." Over the last year Giovanni has expanded to open a second Cardiff city centre restaurant, and launched a Cookery school which has already had star students boxers Joe Calzaghe and Nathan Cleverly, and has taught some of the Premierships Cardiff City FC's first team.
The dramatic finale aired on Sunday 12th January 2014, with the restaurant featuring heavily in a negotiation scene between Sherlock and ultra-villain Augustus Magnussen, while Sherlock tucks into a plate of Giovanni's own Penne Amaffia Pesto. Eagle eyed viewers will have spotted Giovanni in the background inconspicuously eyeing the conversation while tending to some glasses.
We think that between his TV cameos and his recently released web TV series 'The Italianos' which features boxing legend Joe Calzaghe enjoying a lesson at our cookery school, you're going to be seeing a lot more of Giovanni in the near future! The Italianos can be enjoyed on YouTube (GiovannisTV) and at http://www.giovannis.tv.
Watch the gripping finale of Sherlock on BBC iPlayer online. For more information on Giovanni's Restaurants and TV channel visit http://www.giovanniscardiff.com and http://www.giovannis.tv.