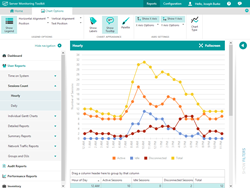 With this tool it is possible to monitor all Windows Servers such as Exchange, SharePoint or the file servers in one single central space.
Zagreb, Croatia (PRWEB) January 21, 2014
Acceleratio Ltd., a fast-growing software development company, released the new application Server Monitoring Toolkit, an agentless monitoring solution for Windows Servers. With an easy-to use interface and many reporting options it provides a complete insight into servers' environment and can be used anytime both on PC or tablet. Available reports are organized under four categories: Users, Performance, Inventory and Audit reports. It is designed to be used as a central monitoring station for all Windows Servers. It is possible to try the product, fully functional free trial is available for 30 days.
TRACKING USERS AND AUDITING REPORTS
Server Monitoring Toolkit provides many useful User reports for tracking users' logon activities across all servers, it shows logon and logoff time, time spent on system in different session states, most active users by group or organization unit and much more. Activities performed on the system are visible in Audit reports which help administrators track actions done on files and logon activities. It also lists all blocked IPs to stop brute force and DoS attacks or other intrusions to the network on Remote Desktop servers.
AGENTLESS MONITORING OF SERVER PERFORMANCE
A complete performance overview of all Windows Servers that need to be monitored can be tracked via Performance reports. These reports collect data about CPU, Memory, Network and Disk usage and show server and network performance through charts and graphs. Monitor all kinds of servers such as SharePoint, Exchange, File Shares, Web Servers and more. Inventory reports will be especially useful in complex environments for tracking important hardware assets (hard drives, network adapters, processors, programs and printers).
Server Monitoring Toolkit provides Agentless data collection - a single instance of the Toolkit needs to be deployed to a single server and servers that need to be monitored can easily be added or removed. Data will be gathered from a central monitoring server. All reports are exportable to Excel or PDF and it is possible to schedule reports to be sent directly to an email inbox.
"With the Server Monitoring Toolkit we have expanded our server monitoring portfolio." said Frane Borozan, CEO of Acceleratio Ltd. "With this tool it is possible to monitor all Windows Servers such as Exchange, SharePoint or the file servers in one single central space."
Server Monitoring Toolkit enables flexible licensing according to the number of servers. It is possible to choose between Perpetual and Subscription (annual) licenses. License pricing starts already from $19 per server and there is a 30-Days Free Trial version available for download. The Express edition allows free monitoring of one server and becomes active after the Trial period ends!
About Acceleratio Ltd.
Acceleratio Ltd. is a software development company, founded in 2008, based in Zagreb, Croatia, Europe and Ronkonkoma, New York, US. The company specializes in developing high-quality enterprise applications and provides consulting for Microsoft SharePoint, Microsoft Remote Desktop Services and Citrix technology. We are proud that our products are used by many organizations worldwide on thousands of servers. Our goal is to ease life for SharePoint, Office 365, Remote Desktop Services and Citrix admins across the globe while decreasing the total cost of ownership and improving performance through our innovative software.
###