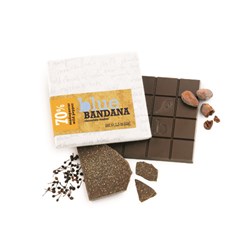 The opportunity to work with local producers to create fine flavor cocoa continues to grow, making this a very exciting time for chocolate makers.
Burlington, VT (PRWEB) January 17, 2014
Blue Bandana Chocolate Maker is proud to announce it is the winner of two Good Food Awards for its 70% Madagascar and 70% Madagascar Wild Pepper chocolate bars. Founded and managed by Eric Lampman, Lake Champlain Chocolates' (LCC) 2nd generation, Blue Bandana represents a fresh approach to making chocolate at LCC, built on the principles of quality, transparency, taste of place, and making chocolate from the bean to the bar. The two bars were chosen by a panel of the country's foremost chocolate experts for their exceptional taste as well as for supporting sustainable agriculture and social good.
"Over the past four years, I have completely immersed myself in all things cocoa, from understanding origin, developing relationships with cocoa farmer, to producing the final product," says Lampman. "It is an honor to be recognized alongside some of the best chocolate makers in the country who are dedicated to making great chocolate and connecting with local producers."
Of the over 1,000 entries that met the Good Food Awards' criteria for demonstrating excellence in environmental and social responsibility, winners were recognized for pushing their industries towards craftsmanship and sustainability while enhancing our agricultural landscape and building strong communities.
"While it is rewarding to have these two bars recognized, I am most proud of the work we've done to establish and grow our direct farmer relationships," says Lampman. "The opportunity to work with local producers to create fine flavor cocoa continues to grow, making this a very exciting time for chocolate makers."
The 70% Madagascar showcases the bright fruit flavors of the Madagascar beans; while the Madagascar Wild Pepper's flavor profile, a 2013 Good Food Award Finalist, is complemented by the wild voatsiperifery peppercorns picked from the east coast of the island, making this bar a complex tasting experience, with spiciness emerging from the fruity chocolate notes.
Winners of the 2014 Good Food Awards were announced in a 400-person ceremony at the San Francisco Ferry Building on January 16, 2014, and will be followed by a Good Food Awards Marketplace on January 18. To purchase the bars, please visit Blue Bandana Chocolate Maker.
# # #
Blue Bandana Chocolate Maker
Blue Bandana Chocolate Maker is a fresh approach to making chocolate at Lake Champlain Chocolates. It began as a curious hobby after Eric Lampman became captivated with a ripe cacao pod on a trip to visit farms in the Dominican Republic in 2009. Learning with every next roast, a blue bandana was soon dug from a drawer and donned during homespun winnowing. By fall of 2012, his first micro-batch of chocolate was sold. In addition to crafting chocolate from the bean to the bar, Blue Bandana has brought to life a new vision for sourcing cacao. Exploring how direct trade can impact the lives of farmers at origin, Eric's work involves forging new relationships with farmers, reinvesting in communities via training and education, and sustaining a high level of quality from producers. Making this chocolate is both romantic and technical; it walks a fine line between art and science. Follow the journey on Facebook, Twitter and Instagram, view chocolate making through the glass at the South End Kitchen, or send a gift of bean to bar chocolate at http://www.LakeChamplainChocolates.com.
Lake Champlain Chocolates
A pioneer in the American chocolate movement, Lake Champlain Chocolates is a family-owned company located in Burlington, Vermont. In 1983, Jim Lampman declared he would create upscale American chocolates that would "rival the Belgians." Over 30 years later, the Lampman family has done just that, by introducing European flavors and tastes using local, Vermont ingredients and by taking a craftsman's approach to chocolate: creativity, patience and mastery. This level of care and craft leads to chocolates that win high praise, year after year, from customers and industry experts alike. Lake Champlain Chocolates are handmade by people who are passionate about their work; products include chocolate bars, as well as the best-selling Five Star Bars, truffles, caramels, gift assortments and gourmet hot chocolate and are sold online, nationwide at specialty food and gift stores, such as Whole Foods Market, upscale hotels and inns, and at their three company-owned stores in Vermont.
Good Food Awards
The Good Food Awards celebrate the kind of food we all want to eat: tasty, authentic and responsibly produced. For a long time, certifications for responsible food production and awards for superior taste have remained distinct—one honors social and environmental responsibility, while the other celebrates flavor. The Good Food Awards recognize that truly good food—the kind that brings people together and builds strong, healthy communities—contains all of these ingredients. Now in its third year, Good Food Awards will be given to winners in nine categories: beer, charcuterie, cheese, chocolate, coffee, confections, pickles, preserves and spirits. The Good Food Awards Seal, found on winning products, assures consumers they have found something exceptionally delicious that also supports sustainability and social good. The Good Food Awards Gold Seal marks the products of winners who have also obtained certified organic status while also leading in taste and social responsibility.
Seedling Projects
Seedling Projects, a California public benefit corporation, is led by Sarah Weiner and Dominic Phillips, who have united their diverse skills to support the sustainable food movement. Through focused events and strategic models, it engages the public in finding better ways to feed our communities. Find more information at: http://www.seedlingprojects.org.