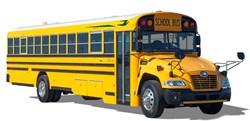 Given these weather challenges, the technicians and drivers wish all of our buses were propane-powered.
Fort Valley, Georgia (PRWEB) January 17, 2014
While much of North America recently experienced record-breaking cold weather, school districts and contractors reported that their Blue Bird propane school buses started and operated impeccably.
All Star Transportation in Torrington, Connecticut, experienced average temperatures of around zero degrees Fahrenheit for several days. Its extensive fleet includes 40 Propane Vision school buses. While the fleet's diesel buses experienced cold weather issues, the propane autogas buses were stellar performers during the challenging temperatures. "The temperature here dipped as low as minus 12 degrees Fahrenheit, adding complexity to our daily operations. The propane autogas buses made the lives of our technicians and bus drivers easier as the buses started perfectly and came up to temperature promptly. Given these weather challenges, the technicians and drivers wish all of our buses were propane-powered," said Leslie Sheldon, operations manager for All Star Transportation.
Lamers Bus Lines in Eastern Wisconsin experienced exceptionally low temperatures during the arctic blast. This long-standing contractor has 14 Propane Vision buses in its substantial fleet. With temperatures dropping to minus 27 degrees Fahrenheit, the propane buses have proven their worth yet again. "Simply put, our Propane Visions are great cold weather buses," said Allen Lamers, owner of Lamers Bus Lines. "We experienced easy starting, heat within minutes, quiet operation and less headaches. Our drivers love the buses and when the driver is happy, everyone is happy."
Reed City Area Public Schools in Reed City, Michigan, is no stranger to bitter temperatures. Throughout the arctic blast, temperatures dipped as low as minus 13 degrees Fahrenheit. "All six of our Blue Bird Propane Vision school buses started right up, without hesitation. School was cancelled for a few days but we were out there anyway, starting the buses and making sure our fleet was fully-prepared," said Paul Lewis, director of facilities and transportation for Reed City Area Public Schools. "The quietness of the propane bus is amazing. During these colder temperatures, the drivers love how quickly the buses warm up. We are very happy with our propane buses."
Blue Bird's propane school buses offer superior cold weather starting and operational capabilities due to two important factors. First, propane autogas' natural properties keep the fuel in a constant liquid form, free from freezing or gelling. Second, propane autogas' liquid form provides better control of the air to fuel ratio, resulting in the superior start-up dependability that districts are widely reporting. Also, there is no need to plug the buses in to pre-heat them.
The Blue Bird Propane Vision and Propane Micro Bird, equipped with the ROUSH CleanTech propane autogas fuel system and a Ford 6.8-liter engine, meet all Environmental Protection Agency and California Air Resources Board certifications. The buses feature 60 percent less carbon monoxide, 12 percent less carbon dioxide, 20 percent less nitrogen oxide and up to 25 percent less greenhouse gases than gasoline.
Domestically produced propane autogas prices are significantly lower than the cost of diesel or gasoline, and the price is not subject to frequent fluctuations. When purchased in bulk, propane autogas costs approximately 50% less per gallon than the cost of diesel fuel.
To learn more about Blue Bird's line of propane autogas buses, please visit http://www.blue-bird.com or visit your local Blue Bird Dealer.
About Blue Bird:
Blue Bird offers a complete line of Type A, C and D school buses in a variety of options and configurations. For more than 85 years, Blue Bird Corporation has continued to set industry standards with its innovative design and manufacturing capabilities. Additionally, Blue Bird provides comprehensive financial solutions through Blue Bird Capital Services. Today, Blue Bird has more than 1,500 employees, Georgia-based manufacturing facilities, an extensive network of dealers, parts and service facilities throughout North America. Its global presence can be seen in more than 60 countries through sales into Africa, Asia, the Caribbean, Latin America, Europe and the Middle East. For more information, visit the Blue Bird Corporation web site at http://www.blue-bird.com.