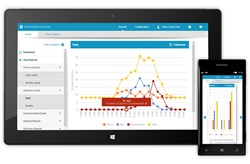 With the latest Terminal Services Log release we have enabled aggregating data from multiple clients in the central data store.
Zagreb, Croatia (PRWEB) January 29, 2014
Acceleratio Ltd., an innovative software development company, released the new major version 5.0 of the Terminal Services Log, powerful monitoring solution for Microsoft Windows Remote Desktop Services and Citrix XenApp trusted by numerous customers worldwide. The new version brings multi-tenancy support, completely redesigned Web Application with all reporting capabilities from Terminal Services Log desktop console, and it is available both on a PC and tablet. The licensing model is now simplified and more affordable, and all editions now support agentless monitoring.
AGENTLESS MONITORING VIA WEB APP
The Terminal Services Log web application now provides the same options, reports and experience as the desktop console: tracking users' activities, creating application, inventory, license or audit reports, monitoring servers' performance and creating custom reports. It is completely redesigned, the navigation is fast and easy to use and comes with the option to show or hide elements to create a view that suits user's needs and screen size. There is also a new configuration tab which allows easier server management, configuration of system jobs and performance counters, tracking of users and groups and setting up email notifications. The web application is a great solution for everyone who is often travelling or working from different locations.
Terminal Services Log desktop console also provides improved reporting capabilities for monitoring how Remote Desktop or Citrix XenApp Servers are being used. Creating User, Application, Server performance reports, and tracking Inventory or Network Traffic can now be even more efficient and easier. It is possible to try this application, free trial provides all features for 30 days.
"With the latest Terminal Services Log release we have enabled aggregating data from multiple clients in the central data store. Multi-tenancy allows us to monitor our client servers even if they are sitting in their physical location so we can easily create billing reports for them and compare different client environments." said Frane Borozan, CEO Acceleratio Ltd.
Simplified monitoring of large farms is available with multi-tenancy architecture and this feature comes with the Enterprise Edition. All Editions now provide agentless data collection - a single instance of the application needs to be deployed to a single server and servers that need to be monitored can easily be added or removed.
Terminal Services Log 5 is licensed per server and brings a new simplified and more affordable licensing model. Pricing starts from $299 per server and there is a 30-Days Free Trial version available for download.
About Acceleratio Ltd.
Acceleratio Ltd. is a software development company, founded in 2008, based in Zagreb, Croatia, Europe and Ronkonkoma, New York, US. The company specializes in developing high-quality enterprise applications and provides consulting for Microsoft SharePoint, Microsoft Remote Desktop Services and Citrix technology. We are proud that our products are used by many organizations worldwide on thousands of servers. Our goal is to ease life for SharePoint, Office 365, Remote Desktop Services and Citrix admins across the globe while decreasing the total cost of ownership and improving performance through our innovative software.
###