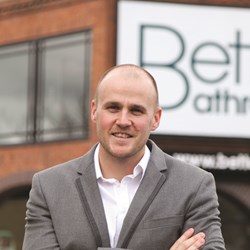 (PRWEB UK) 20 January 2014
As David Cameron puts emphasis on the value of apprenticeships in bridging the skills gap to get young people into their first jobs, Better Bathrooms is launching an apprenticeship scheme aimed at local young people. The apprenticeship scheme will run across the business with opportunities in Accounts, IT, Design and Administration.
Apprenticeships will last for 12-18 months with the aim of securing full time employment at the end of this time period. The aim is to engage with young people who are more practically minded and want to build up a skillset that is not available through the academic curriculum. Participants will attend college part time, studying a related subject, but will also work in the Better Bathrooms office part time gaining practical, hands-on experience through a bespoke training programme.
Lisa Wallwork, 25 from Leigh, is an employee at Better Bathrooms who began working in the accounts department as an office junior in 2009. Better Bathrooms have helped to fund Lisa in gaining her AAT accounting qualification and she is now a team leader, managing 3 other people. Lisa says, "I have learnt a lot through working at Better Bathrooms and have appreciated all the support they have given me. I have picked up a lot of practical skills and my confidence has increased massively. Better Bathrooms are helping me to gain formal qualifications through AAT and I think the structure of the new apprenticeship scheme will be a huge help to young people looking for first-time employment".
Colin Stevens, entrepreneur and founder of http://www.betterbathrooms.com, who started his £32 million business by selling taps on eBay says, "I believe there is great value in training the UK's young people through apprenticeship schemes. With over a million young people unemployed it is the duty of business leaders to pass on their industry knowledge to ensure the next generation are equipped with the skills they need to succeed in their first job. In turn they will become a valuable asset to the company so it is worth the investment."
"I was never very academically minded at school and often got restless in the classroom. I understand that we should cater for different personality types when providing young people with training. Allowing people to learn on the job is a fantastic way to engage with young people who are very able but may find it difficult to remain focused in the classroom."
If you are interested in an apprenticeship please email jobs(at)betterbathrooms(dot)com.