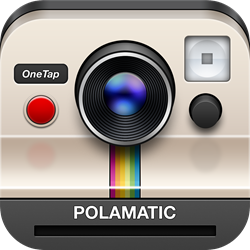 Today, we're excited to share Polamatic 4.0 -our largest update yet. It is inspired by our growing Polamatic community and their love for Polaroid - we went beyond just an iOS 7 redesign and fully rebuilt the app to better capture the essence of Polaroid
San Francisco (PRWEB) January 17, 2014
In a world of digital smartphone photography, Polaroid is re-launching its popular Polamatic iOS app with a complete redesign to more closely capture the Polaroid effect- the excitement of waiting for a Polaroid picture to develop. The Polamatic 4.0 App by Polaroid, one of the most popular Polaroid apps, will bring that instant nostalgia back to life on any Apple device.
Offered by Appadana Development, an authorized Polaroid licensee, the Polamatic app is designed to bring back the magic of Polaroid photography. Appadana Development's Dana Shakiba notes, "Today, we're excited to share Polamatic 4.0 - our largest update yet. It is inspired by our growing Polamatic community and their love for Polaroid - we went beyond just an iOS 7 redesign and fully rebuilt the app to better capture the essence of Polaroid and bring users an even more authentic digital experience."
So what's new?
36 Polaroid-Inspired Filters
The filters have been completely rebuilt to better capture the Polaroid effect. While there is nothing like the original picture - The Polamatic team has studied thousands of actual Polaroid prints, and the all-new filters have softer edges, color adjustments, and some even have emulsion streaks that reflect the nuances of Polaroid film. There are a lot of filter apps out there, but none capture the unique beauty and unpredictability of Polaroid film like the Polamatic app now can.
36 Authentic Polaroid Classic Border formats
The iconic Polaroid Classic Border formats are made from high resolution scans of actual Polaroid pictures. Whether users want a crisp white border, or crave the look of a Polaroid picture that is a bit more aged - users can check out a few additional authentic Polaroid Classic Border formats for a wider variety of choices. In addition, the Polamatic app now has a handful of Polaroid Classic Border formats with colorful borders.
New Text Editing Features and Fonts
The new text editing features provide unique customization and tools - and allows users the freedom to add multiple layers of text - anywhere on your photo. People love to handwrite on a Polaroid picture, and the array of handwritten fonts look and feel like the real thing.
The new Polamatic experience brings back the nostalgia of Polaroid photography -- and like the original Polaroid film -- users will be able to watch their photo develop before their very eyes. To learn more about Polamatic please visit http://www.polamatic.com.
Polamatic for iOS version 4.0 is available today for $.99 and can be downloaded in the Apple App Store: https://itunes.apple.com/us/app/polamatic/id514596710?mt=8.
The Polaroid Brand
Polaroid is one of the most trusted, well-respected and recognizable brands with a rich 75 year history beginning with Polaroid instant film. Our range of products include instant and digital still cameras, high-definition and mountable sports video cameras, tablets and flat-screen TVs that deliver the fun, instant gratification and value for which the brand has long stood. Today, the Polaroid Classic Border Logo rooted in our beginnings of instant photo sharing serves to designate genuine Polaroid branded products. For more information, visit http://www.Polaroid.com.
Polaroid, Polaroid & Pixel, Polamatic, Polaroid Color Spectrum and Polaroid Classic Border Logo are trademarks of PLR IP Holdings, LLC, used under license.
About Appadana Development
Based in San Francisco, California, Appadana Development was founded by Dana Shakiba in 2011. Appadana Development focuses on building mobile apps across a wide variety of platforms. With a focus on apps that combine unique designs with excellent technical implementation, Appadana Development values building quality applications and always responding to the needs of their customers. For more information visit: http://www.appadanadev.com.