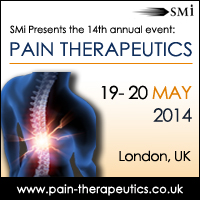 'This will be a unique opportunity to capture a snapshot of the opportunities and challenges in this very important field.' —Nektar Therapeutics
London, UK (PRWEB UK) 17 January 2014
Pain Therapeutics 2014 will evaluate the translational gap on pain indications and issues faced with generic incursion and patent expiration.
The conference, now in its 14th year, will aim to provide delegates with an in-depth analysis of new pain therapeutic targets from bench to bedside and assess the pipeline of novel drugs for unique insights into developments that could restore positive growth in the market.
Stephen Harris, Vice President of Nektar Therapeutics, who is scheduled to speak at the summit commented:
"Experts from academia and industry will discuss novel ways to combat opioid abuse, promising new therapeutic mechanisms, the best use of animal models in preclinical testing and important changes in the regulatory environment and market. Also, new for 2014, there will be a session on approaches to the treatment of migraine pain. This will be a unique opportunity to capture a snapshot of the opportunities and challenges in this very important field."
Other key speakers will include:

Jordi Serra, CSO, Neuroscience Technologies Ltd
Samer Eid, Neuroscience Scientific Knowledge, Merck & Co.
Tom McCarthy, Chief Executive Officer and Managing Director, Spinifex Pharmaceuticals
Kathleen Kelly, Medical Leader, Janssen Pharmaceutical Research and Development LLC
Zara Sands, Computational Medicinal Chemist, UCB
Birgit Priest, Senior Scientist, Eli Lilly
Philip Kym, Associate Director II, Pain Discovery Research, Abbott Laboratories
Click here to see full speaker line-up.
Pain Therapeutics 2014 will look to:
Discuss and evaluate the latest new therapeutic mechanisms from bench to bedside with key insight from Merck, Spinifiex, Eli Lilly, AbbVie and UCB
Present keynote addresses from Mundipharma, Nektar and Morpheus Pharmaceuticals on advances to opioids and strategies to reduce abuse potential
Explore the latest in the area of Neuropathic pain for 2014 with the latest case studies from Neuroscience Technologies and GW Pharmaceuticals
Evaluate the translation gap with case studies from a pre-clinical and clinical perspective from Karolinska Institutet and OGB Consulting
For those wishing to register there is currently a £300 early bird discount available that expires on 28th February. http://www.pain-therapeutics.co.uk
Pain Therapeutics
19th - 20th May 2014
Holiday Inn Regents Park Hotel, London, UK
http://www.pain-therapeutics.co.uk