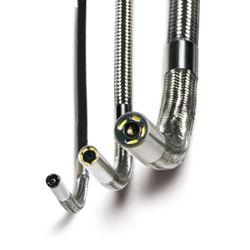 'This was a great addition to our tool cage. We had it in use ten minutes after arrival and it's been busy ever since. Thanks!' -Richard D. Maintenance Supervisor
Traverse City, MI (PRWEB) January 17, 2014
RF System Lab, a leader in non-destructive testing technology, is proud to announce a new addition to their family of video borescopes. The VJ-Advance video borescope line is well-established in the remote visual inspection industry as a preferred diagnostic device for various applications in aviation, oil and gas, chemical processing and automotive manufacturing.
The new 2.8mm VJ-Advance has all the same features as the original, flagship 6.9mm VJ-Advance, including four-way joystick-controlled camera articulation, medical grade camera technology, and trigger activated image capture. "The one-handed, piston-grip design of the VJ-Advance is unrivaled in the video borescope industry, and it's great to add another new borescope to our line-up," said Duncan White, Director of Sales and Marketing at RF System Lab. "Our new 2.8mm scope is the smallest video-based borescope with full four-way articulation in the world. It's really amazing the first time you see it in action – it's going to be a fantastic alternative to fiber-based scopes for those applications requiring an ultra-thin insertion tube."
Early interest in the 2.8mm VJ-Advance video borescope has been focused on the aerospace, power-gen and metal casting industries, although any application that requires a sub-4 mm scope is a possible fit. In particular, technicians who have in the past been limited to using fiber-based scopes should consider the new 2.8mm scope from RF, as it is an excellent replacement for fiberoptic scopes that can be easily damaged. Additionally, these older, fiber-based scopes typically require viewing through an eyepiece, as opposed to the flip-up LCD display screen on the VJ-Advance.
This latest VJ-Advance joins the existing line of 3.9mm and 6.9mm video borescopes from RF System Lab. Most of these scope are available in lengths up to 5.0 meters, but you should contact the company directly to determine which model is right for your needs. To make the decision process easy, RF System Lab offers the industry's only no-cost, no-obligation demo program, so you can evaluate the scope in your facility doing your inspections, before you decide to buy. Contact RF System Lab today online or call 231-943-1171 to see what you've been missing.