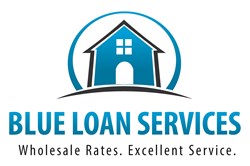 San Diego, CA (PRWEB) January 17, 2014
Blue Loan Services is a full service mortgage company that has been helping residents of California to find the best loan products and home loan rates for many years. The company, headed by the father and son team Robert and Brandon Blue, has been dedicated to serving its customers with honesty, integrity and competence. The Blue Loan Services team of mortgage professionals operates with the goal to provide home loans to its clients while providing them with the lowest interest rates and closing costs possible. The company also does its best to inform borrowers of any new developments which could affect their loan options, mortgage rate or ability to find affordable housing. With the recent rate decreases over the past week, Blue Loan Services now comments on how the lower mortgage rates can help California mortgage borrowers to save the most amount of money on their homes.
A January 16th report from Mortgage News Daily states, "Mortgage rates moved lower today preserving the pocket of recovery that formed on the heels of last week's Employment Situation report. Every day so far this week has offered the lowest rates in the past 30 days, and this wouldn't have been the case if we'd gone any higher today. Such a move would have risked reintroducing 4.625% as the most prevalently quoted conforming 30yr fixed rate for ideal scenarios (best-execution). As it stands, today's strength keeps 4.5% in force. When adjusted for day to day changes in closing costs, rates fell an equivalent of 0.03% today. Compared to the rest of this week, Thursday is tied for the 2nd best rate sheets. It also follows 2 days of progressively higher rates and therefore stands out as a good opportunity to lock for those with little-to-no risk tolerance."
Blue Loan Services explains that, with long term mortgage rate predictions still looking towards rising rates throughout the year, California mortgage borrowers should see any decreases in rates as a good opportunity to save money on their loans. At 4.5% for ideal situations, current mortgage rate averages are a lot lower than they could be in just a few months, or even in a few weeks. Those who wish to avoid any risk of higher rates should take this opportunity to lock in today's low rates if they have been floating their rate and waiting for lower rates, or if they do not currently have a loan application in process, they may wish to find the best loan product for their situation and then lock in on application.
However, there is a slight chance that rates could go even further down. Those who are not in a hurry to close on a loan, or who are more willing to take a risk, might wish to float their rate, while keeping a very close eye on how mortgage rates move over the next few days and locking if there is any sign of a reversal on the decreasing trend. Blue Loan Services advises those who do this to be very vigilant, as rates could go up at any time for any number of reasons, which is why the safest course of action is always to simply lock in rates now.
Blue Loan Services can help those who wish to lock in today's low mortgage rates to find the best possible loans for their situation and work quickly to get approved so that they can avoid higher rates down the line. Their fast online loan application and documentation portal makes it simple for clients to submit their application and keep track of their loan's progress. With a reputation for fast, reliable and courteous service, the company's team of experienced loan officers can be especially useful during this time of rapidly changing mortgage rates.
For more information on how Blue Loan Services can help California home loan borrowers get approved for their home purchase loan or refinance quickly, please visit BlueLoanServices.com or call 1-888-929-BLUE (2583) to speak with an experienced mortgage professional.
CA Dept of Real Estate -- Licensed Broker #01094374 NMLS #938365