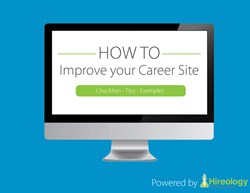 Chicago, IL (PRWEB) January 17, 2014
Hireology, the leading hiring platform for distributed enterprises, recently announced the publication of their newest ebook titled, "How to Improve your Career Site."
The 12-page guide includes checklists, tips, and innovative examples for companies to use when customizing their career site. With sections on adding videos, social sharing, and job title optimization, the guide will be a useful tool for hiring managers and business owners.
"The career page is often described as the welcome mat to your company," said Hireology's Marketing Manager, Erin Borgerson. "We created this guide for companies hoping to attract more candidates; little enhancements to the career site can make the difference between 10 candidates and 100 candidates."
Hireology, based in Chicago, Illinois, provides a SaaS-based selection management platform that helps SMBs and multi-site enterprises organize their hiring process and leverage data and tools to make better hiring choices. Companies with access to Hireology's patent-pending Selection Manager™ take advantage of capabilities like online applicant management, job profiling, customized candidate interview guides and scoring, online skills testing, behavioral interviews, and verification services like background checks and drug screening.
Download the guide for free at http://resources.hireology.com/customize-your-career-site.
About Hireology
Hireology is the leading selection management platform for distributed enterprises. Their award-winning Selection Manager™ includes everything an operator needs to manage their hiring process, including a fully hosted career site, integrated job postings, compensation analysis, pre-hire assessments, interview guides, background checks, skills verification and more. Franchise systems, banks and financial institutions, healthcare systems, dealer networks, and other multi-site operators use Hireology's web-based platform to deliver consistent and repeatable hiring decisions in the field - leading to lower turnover and increased profitability per location. For more information, please visit http://www.Hireology.com/.