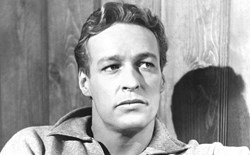 My greatest hope is that Russ and Bob are together again, hitting their marks on that heavenly sound stage.
(PRWEB) January 17, 2014
Russell Johnson, the actor who famously portrayed "The Professor" on TV's iconic Gilligan's Island passed away Thursday from kidney failure at the age of 89. This leaves only Tina Louise (Ginger) and Dawn Wells (Mary Ann) as the only surviving castaways from the famous CBS series.
Dreama Denver, the wife of late "Gilligan's Island" star Bob Denver said of Johnson: "He was truly a man among men, the finest of human beings, a gentleman in every sense of the word, and one who welcomed me into the Gilligan's Island family with open arms. I will remember Russ as one of Bob's closest friends and certainly one of mine. My greatest hope is that Russ and Bob are together again, hitting their marks on that heavenly sound stage."
2014 marks the 50th anniversary of this beloved TV classic which first ran from 1964-1967, and has appeared in syndication ever since, including a TV Land marathon this coming Monday. Talk with Dreama Denver about:

Getting to know Russell on the set of the Gilligan's Island TV movies
Bob Denver's favorite memories of "The Professor" and his wacky inventions to try to help get the castaways off the island
Russell Johnson's other roles, including starring opposite Ronald Reagan in the western "Law and Order" and appearing in "The Twilight Zone" and "Dallas"
Whether the castaways felt that their typecasting after such a huge show was a blessing or a curse
Dreama's book about her life with Bob "Gilligan's Dreams", which details their 30 year marriage, his struggles with alcohol and their work together raising their autistic son Colin which led him to leave show business
The Denver Foundation, and it's mission to assist families with special needs children
Her thoughts on the upcoming "Gilligan's Island" movie, rumored to have cast actor Josh Gad from "Book of Mormon", "1600 Penn" and "Frozen" in the role of Gilligan
Dreama Denver is a former actress (she even appeared in "The Harlem Globetrotters on Gilligan's Island") and wife of the late TV icon Bob Denver who currently is the morning drive host on Little Buddy Radio and head of The Denver Foundation charity.
To request an interview, contact Allen Media Strategies Jessica Lloyd at (703) 589-8960 or jessica(at)allenmediastrategies(dot)com.