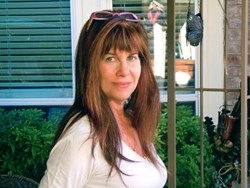 I am motivated to join forces with Topricin in their ultimate goal to help create and support a sustainable healthcare model.
Rhinebeck, NY (PRWEB) January 17, 2014
Topical BioMedics, Inc., Rhinebeck, NY, announces it has appointed Fern Ramsey as National Sales Director for the Natural Industry for the company's line of Topricin pain relief and healing cream formulas. Her responsibilities in the newly-created position will be to work closely with the company's growing list of natural product brokers, fostering strong relationships, providing educational tools, developing collaborative initiatives, and offering ongoing support.
Ms. Ramsey has 16 years of experience with the natural health industry, along with an established successful track record in launching, growing, and rebranding multiple nationally-recognized companies and their brands. "Fern's strength in teamwork and a collaborative management style has allowed her to inspire sales teams, engage retailer communities, and coordinate company initiatives whose products emphasize healing and making the world a better place," says Lou Paradise, company president and chief of research. "Her passion for the restoration of health is a driving force behind delivering a brand's message, and matches a core factor of what we all do here at Topical BioMedics."
A native of Brooklyn, NY, for the past 14 years she has lived in Dallas, Texas with her husband, John, and two daughters, Raya and Leta. She is committed to philanthropic causes, and is especially sensitive to the health challenges of children, women, and at-risk youths.
A long-time "fan" of Topricin, Ms. Ramsey considers herself a "LOHAS" (committed to Lifestyles of Health and Sustainability). She says "I am inspired by Topricin's impressive contributions to communities that include veterans and cancer victims. I am motivated to join forces with them in their ultimate goal to help create and support a sustainable healthcare model while educating people that they have options and lifestyle choices for achieving maximum health and wellness."
ABOUT TOPICAL BIOMEDICS, INC.
Headquartered in Rhinebeck, NY, Topical BioMedics is the research and development leader in topical patented natural biomedicines for pain relief. The company's flagship product, Topricin® Pain Relief and Healing Cream, was introduced in 1994 and is now a leading natural therapeutic brand. A combination homeopathic formula, Topricin was awarded a patent for the treatment of pain associated with fibromyalgia and neuropathy. Other formulas in the product line include Topricin Foot Therapy Cream and Topricin Junior for children (with 5% sales donated to pediatric cancer foundations).
All Topricin products are made in the U.S.A., formulated with approved medicines as found in the HPUS (Homeopathic Pharmacopoeia of the United States) and are in compliance with federal rules for homeopathic over-the-counter medicines. The products contain: no parabens, petroleum or harsh chemicals, are odorless, greaseless and non-irritating, and produce no known side effects, making them ideal and safe for the entire family. For more information, visit http://www.topricin.com.