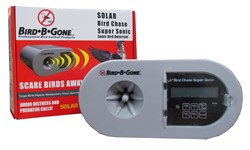 Irvine, California (PRWEB) January 21, 2014
The Solar Bird Chase Super Sonic is an audible bird control product that is powered by solar energy. The solar charge keeps the unit in operation all day. A light sensor shuts the unit off at night to conserve energy and to avoid disturbing neighbors. The rigid construction and U.V. protected materials make this unit sun and weather resistant.
This product is unique to the market not only because it's solar powered but also because it's audible. "Research has shown that birds hear on the same level as humans and do not hear ultrasonic noises," says Ian Rowsby, Director of Sales at Bird-B-Gone. The Solar Bird Chase Super Sonic features actual distress and predator calls of over 22 types of birds. These sounds are played every ten minutes to alert birds to danger. When birds hear these calls, their natural instinct is to flee the area. "This product is great for large open spaces like small vineyards and warehouses," says Rowsby.
The Solar Bird Chase Super Sonic comes with one internal speaker that will cover up to an acre. The unit can be installed with ease where ever birds are a problem. Volume control allows you to adjust the sound between 65-105 decibels.
Now available at http://www.birdbgone.com and http://www.absolutebirdcontrol.com at an introductory price of only $175. This price is for a limited time only so visit us online today to get your Solar Bird Chase Super Sonic!
About Bird-B-Gone:
Bird-B-Gone is the world's largest manufacturer and distributor of bird control products, providing effective and humane solutions to a bird-free environment. Since 1992, Bird-B-Gone products have helped solve pest bird problems in commercial, industrial and residential settings across the globe. Bird-B-Gone proudly manufactures their products in the USA ensuring they meet the highest quality standards in the industry.
###