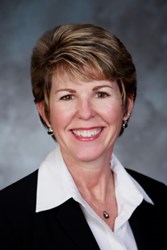 Aurora, Colorado (PRWEB) January 21, 2014
Graebel Companies, Inc. chief executive officer Bill Graebel SGMS has recently named Debbie Maupin CRP president of the global mobility division, Graebel Relocation Services Worldwide, Inc. This appointment comes after the departure of president and chief operating officer Tim Callahan who has accepted the chief executive officer position at the global financial firm, Celergo.
With over 3 decades of relocation industry experience, Maupin has led the operations at the Company's Atlanta, Georgia center since 2006. As its senior vice president she was credited for that center's responsive service delivery to customers' changing mobility needs which has resulted in the superior service scores among its diverse portfolio of Fortune 500 clients that include industry leaders in the energy, finance, retail, transportation and hospitality fields.
The relocation operations' centers that are accountable for the management of the Fortune 500 and the Graebel Relocation Express clients' global mobility services report to Maupin. In-region centers are located in the U.S. states of Georgia, and Colorado; and, in Singapore, China, and the Czech Republic.
Bill Graebel remarked, "Under Tim Callahan's leadership our global mobility team was recognized for its' customer-first philosophy which contributed to our Company earning three First-place and two First runner-up Relocation Baker's Dozen awards from the HRO Today Magazine in recent years; the Forum for Expatriate Management (FEM) organization's Relocation Management Company of the Year in the Americas as well as high honors in its EMEA region in 2013; and, the Colorado Biz magazine Top Service Company in September 2013. I have the utmost confidence that Debbie Maupin and her team will continue our award-winning record by continuing to exceed our clients' and their relocating employees' expectations worldwide."
Prior to joining Graebel Relocation Services Worldwide Maupin was vice president of business development at SIRVA, Inc. Earlier, she held executive positions at North American Van Lines, Inc., Allied Van Lines, Burnham, Inc., and the Beltman Group, an agent for North American. She also owned and managed a Florida-based transportation, warehousing firm, Blair North American, for ten years.
Maupin was conferred an MBA from George State University, and an AAS degree from Niagara College. In addition to earning a paralegal certificate from the University of San Diego, Maupin holds the Certified Relocation Professional (CRP) designation from the Worldwide ERC® (WERC®).
About Graebel Companies, Inc.
Founded in 1950, Graebel is a global business that provides single source global mobility services for the Fortune 500 and global 100. Its worldwide services span full-service relocation; household goods moving and storage (removals); office relocation and workplace services and move management. On-the-ground services are managed in 165 countries. The world headquarters is in Aurora, Colorado USA and in-theatre centers are across the U.S., in Singapore, the Czech Republic, the UK, and China. The privately-held firm holds multiple recognized credentials and has earned exceptional accolades from within the industry. Recognition includes top-ratings in the Relocation Baker's Dozen since 2009; the Platinum award for twenty consecutive years; the Relocation Management Company for 2013 in the Americas by the Forum for Expatriate Management (FEM); Top Service Company of the Year, Ranked 12th among the Top 250 Private Companies in the U.S. Rocky Mountain Region, multi-year awards from the American Moving and Storage Association (AMSA); the Quest for Quality award and more! To learn visit: http://www.graebel.com