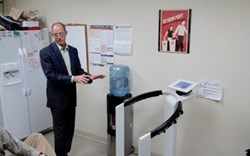 Issaquah, WA (PRWEB) January 28, 2014
QuickMedical's sales force recently received in depth, personalized training on the seca mBCA514. Greg Dudra, National Director, Medical Body Composition for seca demonstrated in detail how to use
the body composition analyzer. This in-depth service training is available for any customer who purchases a seca mBCA514 from QuickMedical.
The seca mBCA514 is a unique, clinically validated precision tool for calculating body fat mass, fat free mass, total body water, extra-cellular water, skeletal muscle mass, lean soft tissue and more. The analyzer is the new gold-standard in body composition analysis, so it's important for its distributors in the QuickMedical sales force to be acquainted with exactly how the device works, and more importantly what makes it stand apart from other professional body composition measurement tools.
The seca mBCA514 represents a bold new development in professional body composition analysis. The analyzer can accommodate patients of all sizes, is completely non-invasive, and easy for clinicians to use. The body composition analyzer utilizes four comparative methods to achieve precise results to measure body composition.
About seca: Building precision scales for more than 170 years, seca has a wide range of accurate, durable scales including baby, bathroom, animal, platform, wheelchair, stretcher and underbed scales. Other products include stadiometers, height rods and growth charts.
About QuickMedical: QuickMedical is a leader in the distribution and sale of medical equipment and supplies. With great pricing, same day shipping, and a best price guarantee, QuickMedical has the professional medical equipment used by medical and healthcare professionals in their facilities everyday. In 2013 QuickMedical expanded services to include QuickMedical GS as a full division of QuickMedical. Now, federal government customers can order any of over 12,000 items on our FSS/GSA contracts directly from QuickMedical Government Sales.