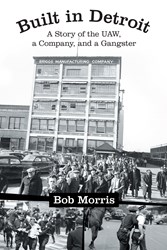 Canton, MI (PRWEB) January 20, 2014
Brutal beatings. Gangsters. Assassination attempts.
This is the real-life history of the United Auto Workers' struggle against hostile forces as it sought to bring justice for automobile workers in the 1930s and 1940s.
With his father, Ken, playing a significant role in the rise of the union, author Bob Morris learned first-hand many untold stories. Bob knew the leaders of a generation when the Michigan labor movement was at its peak in the 1950s and 1960s.
In this new book, "Built in Detroit," Morris explores the beginning of the United Auto Workers, the battles with the companies, the union's internal struggles and the company-instigated violence that followed. Additionally, it shares Ken's journey of working in Detroit's toughest auto plant, his active participation in the fledgling union and, after World War II, when he became a victim of mob violence against the United Auto Workers.
The story covers the brutal attack against Ken and the assassination attempts against Walter Reuther and his brother Victor. The book trails private detectives to find the perpetrators of this violence, then the reader gets an inside look at the U.S. Senate's Kefauver hearings on interstate criminal activities, a one-man grand jury, the Detroit underworld and a crooked Detroit cop.
With vivid description and suspenseful storytelling, "Built in Detroit" provides an authentic look into the day-to-day lives of autoworkers and the mysteries that surrounded their history. It brings to life a lost chapter in Detroit and American history that has relevance to today's labor struggles.
"Built in Detroit"
By Bob Morris
Softcover: 978-1-47599-435-3
Hardcover: 978-1-47599-436-0
E-Book: 978-1-47599-4367-7
Available at amazon.com, barnesandnoble.com, iuniverse.com, builtindetroit.net.
About the author
Bob Morris grew up in southeastern Michigan and knew many of the great labor leaders in the state. As an adult, he has spent his career developing public policy in Lansing, Michigan – home of the state capitol. Morris currently lives in Canton, Michigan.