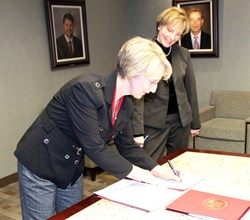 Chicago, Illlinois (PRWEB) January 19, 2014
RMU Provost Mablene Krueger and MacCormac College Dean of Academic and Student Affairs Mary Ann Rowan, Ph.D., signed an articulation agreement today, allowing associate degree MacCormac graduates to transfer to RMU as juniors. To complete a bachelor's degree at RMU, MacCormac students need to complete 96 quarter hours of RMU coursework.
Additionally, students will receive the RMU two-year guarantee, which allows them to take as many courses as desired, but only pay for two academic years. They are also eligible for a scholarship of $2000 per quarter for six quarters.
MacCormac College offers associate degrees in such legal and business oriented programs as court reporting, paralegal studies, criminal justice, business and entrepreneurship. These programs of study easily correspond to the freshman and sophomore classes in RMU baccalaureate programs in Business Administration in Management or Professional Studies in Law Enforcement or Law Office Administration.
"Robert Morris is pleased to offer a seamless transfer experience to MacCormac graduates," said Provost Krueger. Dr. Rowan added that, "MacCormac College is honored to be entering this agreement with RMU and is delighted with the opportunities this provides our graduates."
For further information on transfer opportunities at Robert Morris University, call 800-762-5960 or consult the website, http://www.robertmorris.edu/transfer/.
Robert Morris University Illinois is a not-for-profit, baccalaureate and graduate degree granting institution, accredited by the Higher Learning Commission of the North Central Association of Colleges and Schools.* The University serves over 7000 students interested in getting an education in business, graphic arts, nursing and health care, culinary and computer studies at its main campus in Chicago, as well as at locations in Arlington Heights, DuPage, Elgin, Orland Park, Bensenville, Springfield, Peoria, Schaumburg and Lake County.
*Higher Learning Commission of the North Central Association of Colleges and Schools, 30 N. LaSalle Street, Chicago, IL 60602, 312-263-0456.