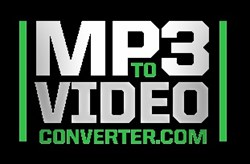 Easily convert mp3 files to YouTube ready mp4 Video Files with one click!
Portland, OR (PRWEB) January 17, 2014
MP3 to Video Converter launches new free online service to allow artists or fans to convert .mp3 files to YouTube ready videos with one click. The service allows users to select one or multiple mp3 files along with one or more pictures to create the video in less than 30 seconds using this technology.
The first step of the site is for users to select one or multiple mp3 files to create the soundtrack for the video. Then the user simply uploads one or more picture files to create a slideshow of visuals for the video. Once the content is selected the user simply clicks "Create Video" to process the files. The program then outputs a simple .mp4 video ready for upload to YouTube.
This technology and simple user interface is best used by musicians wishing to create visuals for songs without going through the process of recording a professional video. The musician can then upload the file to YouTube to take advantage of the millions of users and searches for new music on the video network, giving further exposure to their music.
About MP3 to Video Converter:
MP3 to Video Converter was founded in 2013 to allow artists and fans to easily convert standard MP3 files into YouTube optimized and shareable videos to increase the reach of these songs. The simple tool can also be used for a number of different uses to combine mp3 files with pictures for slideshows of any kind. For more information please visit http://www.mp3tovideoconverter.com.