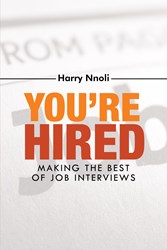 Maryland, Nigeria (PRWEB) January 20, 2014
With over 20 years in the business world, Harry Nnoli has seen the impact bad interviews can have on a candidate's career.
In his new book, "You're Hired," he teaches young professionals tactics and strategies for making the best of job interviews.
The book provides three key strategies for getting hired, offers tools to identify a candidate's strongest qualities and provides help answering interview questions. Additionally, the book includes practice worksheets to help apply the book's lessons.
"The book is a blend of my personal experiences with well-researched work from the best authorities around the world," Nnoli says. "It shows you how to land the job as well as make the right choice and excel."
Although the book is designed for prospective employees, the content also guides employers on what to look for when filling a position.
For more information, visit http://www.harrynnoli.com.
"You're Hired"
By Harry Nnoli
Softcover: $14.95, 978-1-49180-265-6
Hardcover: $23.99, 978-1-49180-264-9
E-Book: $3.99, 978-1-49180-263-2
Available at amazon.com, barnesandnoble.com, authorhouse.com
About the author
Harry Nnoli is a management consultant, business philosopher and motivational speaker with more than 20 years of experience in marketing, sales, business strategy and brand management. He founded Smiles Training & Consulting and is the host of the motivational program, Positive Difference, which appears on radio and other platforms and inspires listeners to become their best, irrespective of circumstances. Nnoli currently resides in Maryland, Lagos.
# # #