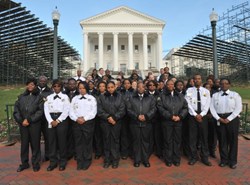 Not only does [this contract] cement our foundation as the Commonwealth's choice for security, but it also opens the door for any agency to contract directly with us...
Manassas, Virginia (PRWEB) January 21, 2014
January 21, 2014 – In November 2013, New Horizon Security Services, Inc., a privately-owned security firm, was awarded the contract for the Commonwealth of Virginia's Department of General Services (DGS). Coupled with pre-existing contracts with many Virginia agencies, this contract win effectively made New Horizon Security the single-largest provider of security officers for the Commonwealth.
As Virginia's statewide procurement service, DGS contracted with New Horizon Security to be the government's authorized vendor in providing quality, cost-effective, timely and professional security services. The contract's main purpose is to provide security in state-run buildings and parking facilities spanning eight city blocks in downtown Richmond surrounding the Capitol Building. New Horizon's security team is responsible for visitor access control, parking management, emergency response, and mobile patrols.
However, the contract is not limited to the existing level of effort. "Winning the DGS contract is extremely exciting," stated New Horizon Security President, John "J.J." Frazer. "Not only does it cement our foundation as the Commonwealth's choice for security, but it also opens the door for any agency to contract directly with us without the burden of a lengthy procurement process." Any Commonwealth agency looking to hire a security firm can become an authorized user and immediately contract with New Horizon Security using the DGS contract.
As the new implementation commenced, Frazer was grateful to the entire New Horizon Security team. "I know that this opportunity would not have been possible without my team faithfully serving every day," said Frazer. "Their hard work helped build our reputation as a high-quality, value-added security provider. Credit is due to each security officer who brings a good attitude and a smile to work on a daily basis. They earned this win. I couldn't be more appreciative to have such a fantastic team."
With the new DGS contract, New Horizon Security continued its corporate growth, both in terms of the number of new employees and geographic reach. The company recently ranked number 1,438 on Inc. magazine's list of the nation's 5000 fastest growing private companies for a third year in a row, and was twice honored by Inc. magazine's Hire Power Awards, as the second largest small business job creator in Virginia. The new DGS contract increased New Horizon's staff by another 100 security officers.
About New Horizon Security Services, Inc. 
New Horizon Security specializes in providing high-quality armed and unarmed security officers throughout the Mid-Atlantic region in support of local and state government agencies, private businesses, commercial and retail properties, construction sites, residential communities, education facilities, and public service buildings. New Horizon Security also operates a certified training academy to train unarmed and armed security officers for the field. This training academy is open to the public as well. New Horizon Security is headquartered in Manassas, VA with satellite branches in Richmond, Tidewater, Virginia Beach, Roanoke, and Danville, VA, and Raleigh, NC. To learn more about New Horizon Security, please visit the New Horizon Security Services, Inc. website at http://www.newhorizonsecurity.com.