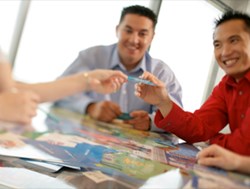 It's the first few hours of a two-week training program, and it's this session that's burning into our people's brains.
St. Petersburg, FL (PRWEB) January 23, 2014
Paradigm Learning, a leader in business games, simulations and Discovery Maps®, today unveiled its latest case study, How to Help Employees Embrace Change and Adopt New Ways of Serving the Market. The case study highlights Paradigm Learning's recent partnership with Siemens to develop Siemens' new go-to-market process.
Siemens Healthcare USA, a leading supplier to the medical industry, recently introduced a revolutionary new information system designed to help small-market hospitals raise productivity and deploy resources efficiently. As Siemens began to implement the system on a large scale, the company was met with unexpected challenges. This new system proved costly, time-consuming and difficult for Siemens' clients to implement. Siemens took decisive action and undertook a major re-engineering of the implementation methodology.
This ambitious re-engineering effort required a major shift in Siemens' organizational mind-set. The company needed its 1,100 project managers and consultants across the country to adopt a new way of doing business, which meant sweeping changes in their philosophies and practices.
Siemens wanted employees to quickly embrace the changes by helping them understand what these changes were and why they were important. The company's goals were simple: inform employees about the new go-to-market process, develop and retain these employees around the new process, and manage the leadership talent that would champion it. In order to reach these goals and make these vital changes, Siemens turned to Paradigm Learning for help.
Siemens partnered with Paradigm Learning to design a custom Discovery Map — a highly engaging and interactive tool — that mapped out a new way of going to market. Paradigm Learning consulted with Siemens to gather key messages and data for the high-impact learning session. With the integration of game elements, case studies and critical-thinking exercises, the Discovery Map made the experience relevant and fun for Siemens' employees.
In a classroom setting, the participants collaborated over the course of a few hours to explore the map content, talk about issues, draw conclusions, and develop new insights, motivation and commitment. Competitive games, challenge scenarios and realistic situations associated with the Discovery Map helped participants build long-term knowledge retention and influenced job behaviors. Siemens knew these powerful tools would help them establish the foundation for an environment conducive to learning that would pique participant interest and keep them engaged while managing their expectations and developing their talent — all of which Siemens' employees needed.
The benefits of the Discovery Map roll-out sessions are most evident in how participants have aligned their perspectives about the changes and standardized their language when they discuss those changes with customers. "They're saying the words that we want them all to say," says Nina Ricevuto, senior director, business services, Global Services. "It's like we sat them down and instilled in them a new way of saying things, because these conversations were seamlessly built into the map activity. That might be the most important goal we achieved."
Although it was used early in the training process, participants cite the Discovery Map as especially helpful, saying it was a critical tool and that it helped them work through the cultural changes of their new roles. "It's the first few hours of a two-week training program, and it's this session that's burning into our people's brains," says Ricevuto. Internal feedback from participants has been "nothing short of exceptional," Ricevuto adds.
Ultimately, the learning approach has paid off for Siemens in the marketplace. This fundamental shift in how Siemens does business allows its project managers and consultants to work better and more efficiently with customers every day. As a result, Siemens is earning high levels of consumer satisfaction and loyalty.
Click here to download the Siemens case study How to Help Employees Embrace Change and Adopt New Ways of Serving the Market. For more information about Discovery Maps, visit us at ParadigmLearning.com or call 727.471.3170.
About Paradigm Learning
Paradigm Learning is a leader in learning innovation, offering unique education and communication programs to organizations around the world. Its award-winning, classroom-based business games, simulations and Discovery Maps, enhanced with online options and customization and consulting services, have been used by leading companies since 1994.
Paradigm Learning's core methodology is discovery learning, a powerful educational approach that engages employees, accelerates learning and increases retention. Fully customized programs and tailored off-the-shelf programs are available in areas such as business acumen, talent leadership, employee alignment, leadership accountability, team building, project management, organizational change and change management.
The company's flagship business acumen training program, Zodiak®: The Game of Business Finance and Strategy, has been conducted with more than one million managers and employees worldwide.