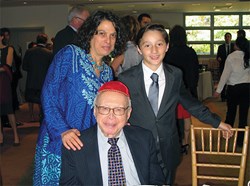 I love playing chess with Zachary. I am two generations away from him, but he's a formidable opponent.
New York, NY (PRWEB) January 22, 2014
DOROT, a non-profit social service agency dedicated to relieving the social isolation of older adults, will launch a new intergenerational program in the spring to bring together seniors with tweens and high school students to learn, play, and build their chess skills. The program was initiated by a 12 year old volunteer, Zachary, and his family, as he was seeking to improve his chess game and learn from elders.
DOROT connected Zachary with Herman, 89 years old, as he too was seeking a chess partner. Zachary went to Herman's home every week to play, and despite their 77 year age difference, their friendship soon grew beyond the game of chess. Herman, whose father perished in the Holocaust, shared life stories with Zachary, which were especially poignant as he prepared for his bar mitzvah.
Their intergenerational relationship hit a high note when Herman was invited as an honored guest to Zachary's bar mitzvah, and presented Zachary with a cherished family heirloom – a chess set that had belonged to his father. Herman's daughter told Zachary that it was in recognition of "the reverence you showed for its meaning, and of the loving, mutual respect and connection forged over time between you and Herman." As a result of this experience, Zachary's family is creating and sponsoring, with support from family and friends, an intergenerational chess program at DOROT that will foster relationships between the generations with mutual appreciation for the game of chess and each other.
The new DOROT program will comprise of afterschool sessions and special Sunday chess events; during the summer, DOROT Teen Interns will visit more frail seniors to play in their homes. Seniors and youth at all chess levels will learn chess concepts and strategies from chess masters and each other; they will also form friendships during the process. The chess games will be a catalyst for connections and exchanges between seniors and youth.
Zachary continues to visit Herman in his home, as both are accomplished chess players – Zachary placed in the top 50 in the 3rd grade Nationals competition, and Herman successfully competed at the 92nd Street Y. Herman said, "I love playing chess with Zachary. I am two generations away from him, but he's a formidable opponent."
About DOROT
Since 1976, DOROT has worked to alleviate social isolation among the elderly and provide services to help them live independently as valued members of the community. We serve the Jewish and wider community, bringing the generations together in a mutually beneficial partnership of elders, volunteers and professionals. Visit http://www.dorotusa.org for more information.