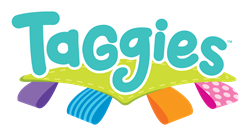 We are so grateful to Kids II for their generous donation of Little Taggies.
(PRWEB) January 17, 2014
Kids II® delivered $56,000 worth of Little Taggies™ Blankets to Baby Buggy®. The donation is evidence of the commitment of Kids II to making a difference in the lives of children and their families. Baby Buggy, a charity started in 2001 by Jessica Seinfeld, works with a network of more than 50 community-based organizations to distribute new and gently used essentials for children in need.
"We are so grateful to Kids II for their generous donation of Little Taggies," said Baby Buggy's Executive Director Katherine Snider. "These blankets will bring so much comfort and happiness to families in need."
Since its inception in 2001, Baby Buggy has donated over 6.4 million items to families in need, including clothing, products and services. The non-profit's mission is to improve the safety, health and well-being of children.
Taggies is a line of comfort products that feature a generous assortment of printed and textured tags. Soothing, entertaining and appealing to little fingers, Taggies enhance early childhood emotional well-being, happiness, and security with colorful and silky tags that are both tactile and visually stimulating.
Taggies, like Baby Buggy was also started by a mom. She noticed her child's fascination with satin tags and the idea has grown into a collection of highly sought-after products including blankets, plush toys and other essentials for baby. All Taggies products include signature tags that have a calming effect on young children. Taggies textured tags provide the tactile stimulation that babies crave for development and in turn, have an amazing calming effect on babies of all ages. That's why Taggies' products almost always become a beloved security object for the children lucky enough to receive them.
Kids II has a long history of partnerships with charitable organizations and volunteer efforts. Today, the company is one of the world's fastest growing baby product companies, spanning the globe with 13 global offices and bringing happiness to small children in more than 70 countries. In addition to Taggies, Kids II's brands include Bright Starts™, Ingenuity™, Comfort & Harmony™, Oball™, Baby Einstein™ and Disney Baby™.
About Kids II®, Inc.
Kids II has a 40-year history of inventing and reinventing baby and infant toys and gear and has quickly become one of the world's fastest growing baby product companies. Driven by innovation and a comprehensive brand portfolio, Kids II designs, markets and distributes more than 400 unique baby and infant products, launching 125 new products a year across the globe. The brand portfolio strength runs deep under the Kids II umbrella, which includes Ingenuity™, Comfort & Harmony™, Bright Starts™, Baby Einstein™, Disney Baby™, Oball™ and Taggies™. Kids II spans the globe by selling products in more than 90 countries and maintains 13 global offices, including international affiliate operations in Australia, Canada, Europe, China, Hong Kong, Japan, Mexico and South Africa. To learn more, visit kidsii.com.
ABOUT BABY BUGGY
Baby Buggy®, founded by Jessica Seinfeld in 2001, is a non-profit organization dedicated to providing families in need with essential equipment, products, clothing, and services for their infants and children up to age 12. With an extensive network of community-based organizations across the country, Baby Buggy has donated more than 6.5 million items to thousands of children. Baby Buggy is a Better Business Bureau Accredited Charity, passing all 20 BBB Standards for Charity Accountability. For more information, visit http://www.babybuggy.org or follow on Twitter @LoveRecycled.