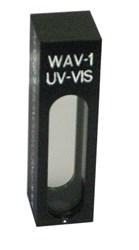 Farmingdale, NY (PRWEB) January 20, 2014
NSG Precision Cells is the world leader in the spectroscopy field. NSG has been manufacturing high quality quartz and glass cuvettes for over 50 years. Throughout the years, NSG has become a name often mentioned in every science lab.
For decades, researchers have been using liquid holmium oxide to perform wavelength calibrations on their spectrophotometers, especially for the peak of 241.5, which is critical in DNA experiments. Liquid holmium became the most commonly used standard for UV and VIS spectrophotometer calibration. Yet liquid holmium has a major disadvantage in that it needs to be re-calibrated yearly. The re-calibration process has caused many laboratories to lose weeks and sometimes months of research due to the long re-calibration lead times.
Addressing this concern, NSG decided to make a holmium calibration standard that never requires re-calibration. The solid-state WAV-1 UV/VIS holmium oxide filter was released to the spectroscopy world in mid-2012. This filter completely changed the spectrophotometer calibration world and scientists were lining up at NSG trying to get their hands on one of these WAV-1 UV/VIS standards. However, there was one weakness about the WAV-1. It did not provide a 241.5 nm calibration peak.
Recently, NSG has further developed the techniques used to make the WAV-1 UV/VIS calibration standard and now offers the only solid-state holmium oxide glass filter that has the treasured 241.5 nm peak. The addition of this peak gives the WAV-1 UV/VIS filter 11 NIST-certified wavelength calibration points.
Some liquid holmium oxide filters that offer the 241.5 nm peak, have unreliable results. The liquid peak can be unclear and some machines may have a hard time finding it. The WAV-1 UV/VIS 241.5 nm peak is sharp and clear on all 1nm spectrophotometers. The sharp peak is critical for ensuring proper UV calibration.
Scientists who do a lot of work in the low UV range need to have a holmium oxide calibration standard for the 241.5 point. Researchers who work in fields such as DNA, RNA, and nuclear science need to sure they have their machine calibrated with the 241.5 nm peak.
NSG offers a Lifetime Warranty on the WAV-1 holmium oxide filter. The warranty guarantees that if a WAV-1 calibration standard ever falls out of specification, NSG will replace the filter free of charge. Researchers who have upgraded to a WAV-1 filter have been boasting to their colleagues about how they will never have to buy another holmium oxide filter.
NSG's calibration laboratory is ISO 17025 certified for calibration and re-calibration of spectrophotometer standards. The WAV-1 holmium oxide glass filter is NIST traceable and made with the same methodology and procedures that NIST uses. NRC- Canada and US Pharmacopeia also certify it for the 241.5nm peak.
Researchers who need to save money, need the 241.5nm peak, and need an easy to use holmium oxide glass filter, should immediately go to the NSG Precision Cells website and purchase a WAV-1 UV/VIS filter now. For more details contact NSG Precision Cells.