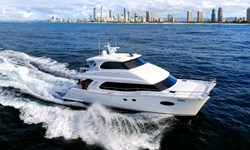 "Finally a cat that looks like a yacht!"
MIami, Florida (PRWEB) February 05, 2014
Horizon Power Catamarans took their successful and highly acclaimed PC60 Open Flybridge and created the new PC60 Skylounge. The PC60 Skylounge is quite possibly the most elegantly styled power catamaran to grace our shores. To quote the proud new owner of hull #1, "Finally a cat that looks like a yacht!" Her soft, smooth, comfortable and stable ride will appeal to anyone that spends extended time aboard, underway or at anchor. This is a yacht you can truly LIVE aboard.
"The PC60 would unquestionably be the best riding big powercat I have ever had the experience to run hard and fast in rough water. It is free of vices and a credit to the builders and designers. Not only does it provide outstanding performance and handling, it also has the now legendary Horizon stamp of quality along with it," says Pacific Power Boat.
The PC60 Skylounge (often called an Enclosed Pilothouse) is the serious blue water cruiser's dream yacht, offering the luxury, space and amenities of much larger yachts, plus an enclosed pilothouse affording total comfort and protection from the elements on wet and windy days while passage making.
The PC60 is available in both Open Flybridge and Skylounge configurations, with the aft deck, salon, galley and master cabin all on the main deck level that makes for very comfortable access to all the primary living areas, a unique feature on a yacht of this size!
The highly refined and tank tested hull designs make for a remarkably smooth, soft and stable ride, regardless of sea conditions. The PC range is built using the patented SCRIMP resin infused system ensuring a lighter, stiffer and far stronger structure compared to typical build methods.
The 2014 Yacht and Brokerage Show in Miami Beach will be running from February 13th to February 17th, 2014, covering 1.2 million square feet of space over a mile-long strip of Indian Creek Waterway. This year's show features over 500 new and pre-owned vessels valued at more than a billion dollars with Horizon Yachts and Power Catamarans located at Ramp 15; Slips 410-413.
Horizon Power Catamarans welcomes all guests to this event and invites each to admire the PC60's beauty from within. No tickets are required for the show! Directions and more information are available on the Yacht and Brokerage Show website.