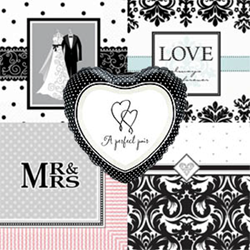 Tacoma, WA (PRWEB) January 20, 2014
Pre-wedding celebrations – bridal shower, bachelorette party, bachelor party and engagement party – are opportunities for the bride and groom to-be to relax and laugh with friends and family. Everyone is excited for the couple and anxious to share in this special time leading up to the wedding ceremony. To help make the planning easy and fun, Party World has an extensive selection of decorations, favors, games and invitations for all of these occasions in wide variety of themes. Just by browsing the site, ideas abound for the events.
A delightful pattern for bridal shower supplies and an engagement party is Elegant Wedding. The design features a bride, presents and Mr. and Mrs. In delicate pink and gray for plates, napkins, cups, plastic table cover, balloons, and even gift wrap. Ever After is a striking black and white pattern with a huge array of items: invitations and thank you notes, centerpieces, favor bags, confetti and even a paper lantern. It would also be beautiful for reception decorations, including a wedding card box. The lovely Love Always and Forever is in black and white, too, with aqua blue accents. These engagement party supplies include banners, lanterns, confetti, balloons, invitations, tableware, favors and gifts.
For a bachelorette party, Party World carries fun products that are appropriate for a G-rated party and to add to spicier parties, too. Striking decorations are available in hot pink and black, some with a zebra stripe pattern. Think boas, high heels (in decorations, favors, gifts). Find games such as a scavenger hunt. Gag gifts can be a highlight, like the Honeymoon Survival Kit. High heels lend their shape to wine bottle holders, centerpieces, cupcake décor, and danglers in the pattern Sassy and Sweet. Diamond rings and martini glasses also figure prominently in Girls' Night Out and more bachelorette party supplies.
Party World has provided customers with beautiful and unique wedding supplies through their brick and mortar store for over 30 years and, through Partywedding.com, has served customers on the Internet since 1998. Also, Party World continues to offer on-line customers free ground shipping on orders over $65.
Corby Howell, Party World's Partywedding.com website manager states, "Pre-wedding celebrations create great memories and we enjoy helping to make them special. Helping customers is a priority and we will do all we can to fulfill their needs." Call for assistance with ordering or for party ideas at 1-800-933-3948.