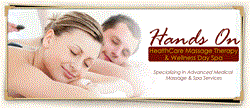 How to market very often becomes a difficult business decision.
Commack, Long Island, New York (PRWEB) January 20, 2014
The staff at Hands On Massage Spa differ in opinion regarding two videos made in order to tempt Couples into participating in Valentines Week at this Wellness Day Spa. The Long Island day spa offers Valentines Packages which include massage, body treatments, etc.
Video 1 - 2014 Valentines Day Couples Massage Spa Commack Long Island
Video 2 - Valentine's Day Week Couples Spa At Hands On HealthCare Massage Therapy and WDS Commack Long Island
Therefore, Marla Kaplan-Pelle, Director of the Day Spa and creator of the videos, decided to ask the public their opinion. "How to market very often becomes a difficult business decision. My staff really felt quite differently regarding these videos. The first video is very light and fun and I felt would intrigue people to visit the website. The second video is more romantic and does show pictures of the spa, unlike the first video." The response so far has been very interesting. People are not only responding with their opinion but also offering critiquing, as well. The final released videos will probably have some slight changes based on people's responses.
Opinions will count until January 31, 2014. On February 1, 2014, a winner will be picked from the raffle. The MeltAway Massage is worth $80.00 and Kaplan-Pelle states that it is the perfect giveaway. "People are relieving my stress regarding which video to choose to post on my website, so it's wonderful I can offer them some stress-relief as well!"
Hands On HealthCare Massage Therapy and Wellness Day Spa has been serving the Commack Community since 2000. Hands On HealthCare Massage Therapy is a recognized leader in Advanced Medical Massage in Suffolk County, Long Island. Medical Massage is often the answer regarding pain, injury and disease. Hands On offers Pre-Natal and Post-Natal Massage, Sports Massage, Trigger Point Therapy, Myofascial Release, Manual Lymph Drainage and is a recommended community provider for Memorial Sloan-Kettering Cancer Center. The Spa Services Division offers spa treatments such as Therapeutic Facials, Skincare, microdermabrasion, body treatments, permanent makeup and para-medical cosmetics and cellulite reduction through ultrasound cavitation (Cavi-Lipo). The Wellness Day Spa has an extensive Couples Massage Spa Date Menu. Spa Parties are a specialty. An array of services and packages are available for both on and off-site. Beyond the Spa Services include off-site on-site workplace of event Mobile services which include bringing the day spa to the doorstep at home, venue or corporate function. Common events include bachelorette parties, showers, birthdays, Bar and Bat Mitzvahs, Sweet 16 Corporate Events and functions. Hands On HealthCare Massage Therapy claims its licensed massage therapists and estheticians provide clients with the ultimate experience in attention, service and care.
Hands On HealthCare Massage Therapy and Wellness Day Spa
Marla Kaplan-Pelle, Licensed Massage Therapist, Certified Lymphatic Therapist, Director
208 Commack Road, Commack, NY 11725
631.462.4263