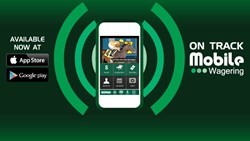 "We have known for some time that being able to wager from your phone is a huge convenience. This application makes that process easier than ever plus a whole lot more." - Andréa Young
Houston, TX (PRWEB) January 17, 2014
Sam Houston Race Park (SHRP) is excited to announce the launch of the new SHRP Mobile App. Sam Houston Race Park partnered with Parallel 6, a creative enterprise mobile technology firm, to develop the innovative product for racing and entertainment fans. The SHRP Mobile App can be downloaded for free through iTunes and Google Play stores making it available to users of Apple and Android devices. The App offers Sam Houston Race Park fans a one-stop shop to stay up to speed on all aspects of the Park's business from wagering on track to making reservations in the Winner's Circle Restaurant. Users can easily view entries, results and replays from anywhere in the world. The app further enhances the on-track experience by providing direct access to the Park's mobile wagering system, which first launched in 2013. The app will also provide users the ability to purchase live racing and concert tickets, review the most up to date calendar of events and stakes races. App users will receive exclusive discounts and other valuable information sent directly to them through the app.
"After launching our mobile wagering in system in 2013, we realized a mobile app was the next logical step in our commitment to providing our fans with the best possible experience. Today's launch is an exciting advancement of that goal," said Andréa Young, President of Sam Houston Race Park. "We have known for some time that being able to wager from your phone is a huge convenience. This application makes that process easier than ever plus a whole lot more."
The 2014 Thoroughbred racing season kicks off Tomorrow with start of Texas Champions Weekend. Racing will continue every Friday, Saturday, Monday and Tuesday at the Park. The 32-day meet continues through March 11th.
Sam Houston Race Park is Houston's premier racing and entertainment facility, located just 15 minutes from downtown Houston, and offers a variety of attractions including 19 recently renovated luxury suites overlooking the race track, The Pavilion Centre, and award-winning dining options at the Winner's Circle Restaurant and the Champion Energy Services Jockey Club. For more information on upcoming shows, events and tickets, please visit http://www.shrp.com.