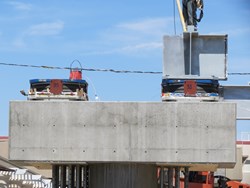 In the event of a major earthquake, the airport will be the center of emergency response for Southern California.
BURBANK, California (PRWEB) January 17, 2014
Of all the buildings in the Los Angeles Basin, the Regional Intermodal Transportation Center (RITC) now under construction at Bob Hope Airport in Burbank is one of the most engineered to withstand a massive earthquake such as the 6.7-magnitude quake that hit Northridge 20 years ago.
The Burbank Airport Authority set extraordinarily high goals for the seismic performance of the RITC in its secondary role as a key emergency-response facility. The building utilizes state-of-the-art seismic resilient technology designed to keep the building standing even after multiple earthquakes. "In the event of a major earthquake, the airport will be the center of emergency response for Southern California," said Dan Feger, the airport's executive director.
According to the Public Policy Institute of California, April 2006, the 1994 Northridge quake killed 57 people and was the most costly in U.S. history, resulting in approximately $40 billion in economic losses with 6,000 buildings and over 300,000 single-family homes damaged. With the anniversary approaching, area officials this week lamented that, 20 years later, building safety and standards still lag. Airport officials are counting on the $112 million RITC building, a multi-purpose transportation hub, to keep the airport running in the event of a disaster while also serving as a disaster command center for the California Emergency Management Agency (CALEMA) and Federal Emergency Management Agency (FEMA) when and if "The Big One" that Southern Californians routinely speak of strikes.
The facility's design stands out for its commitment to seismic performance, said Dr. Kit Miyamoto, CEO of Miyamoto International, part of the engineering team. "This is why we exist," Miyamoto said. "We want to make the world a better place; a safer place. We want to save lives. Our mission is so critical and the Burbank Airport is one of the great examples of it."
Now under construction on Empire Avenue across from the Bob Hope Airport Train Station, airport officials expect to open the facility July 1. On an everyday basis, the three-level structure will be a transportation hub that will house a rental car facility, a bus transit station and an elevated moving walkway to ferry passengers to and from the airport terminal.
Miyamoto International used a "beyond code" approach to the transportation hub's design rather than a "code-minimum" approach. The design incorporates more than 100 triple-pendulum bearing isolators that allow the structure to stay standing and remain operational, even after a very large earthquake and ensuing quakes and temblors. The YouTube video above shows how the isolators work.
Officials from FEMA, CALIMA, and the Los Angeles County Sheriff and City Fire departments toured the facility and understand its value as an emergency operations base. Its location is critical because, after an earthquake, airports are a lifeline for supplies, medical aid and volunteers.
"What I would say to someone who's contemplating performance-based design" over just doing the bare minimum of what the building code requires, Feger said, is "'Go for it.' This is a project of the future."