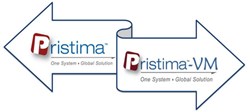 Pristima continues to be the platform of choice for complex, global preclinical operations.
Morris Plains, NJ (PRWEB) January 17, 2014
Xybion Corporation, the global leader in Integrated Compliance, Quality, Risk & Laboratory solutions for life sciences & highly regulated industries, today announced that the world's the leading animal health company has chosen Xybion's Pristima® Suite to automate and manage its preclinical operations globally. This marks the second top 5 Animal Health organization to select Pristima Suite in the past quarter following a comprehensive competitive evaluation of vendors.
Xybion's Pristima Suite is an industry leading software application built to help life science, animal health and drug development companies manage highly regulated and complex preclinical processes at a global level. Pristima Suite has been adopted by many of the top companies globally in these fields. Pristima sets itself apart from other preclinical solutions because it is the only software application in its category integrates traditional preclinical processes with compliance, quality and audit management out of the box.
Dr. Pradip Banerjee, Xybion CEO stated, "Pristima continues to demonstrate its flexibility and functional advantages as it is deployed into an ever-diversified research community that includes the top Pharmaceutical, Biotech, Contract Research and now top Animal Health organizations. This is really a testament to Xybion's team of software engineers who continuously, design, build and test Pristima to meet ever-expanding requirements". Dr. Banerjee continued, "Clients ever-increasingly see Xybion as the single-vendor solution to meet their data management, compliance and validation requirements and we have continuously expanded our geographic footprint to serve the global and local needs of the drug discovery scientific community".
After a comprehensive and competitive evaluation of a number of preclinical software vendors, Xybion was chosen for several key reasons including:

Functional advantages of the application – Xybion offers the most comprehensive set of preclinical features while integrating other key processes around compliance and quality management
Global market leadership – Pristima is used by the top preclinical and animal health organizations across the globe
A range of professional services including installation, training and validation designed to accelerate implementation and deployment, guaranteeing a quick return on investment
About Xybion Corporation
Xybion is the leading provider of software, services and consulting for global corporations operating in highly regulated industries. Our unique solutions focus on regulatory compliance, GRC, quality management, GLP, integrated preclinical lab management, early-stage drug discovery, content migration and systems validation. Xybion specializes in helping companies improve their overall compliance processes and provides a complete view into organizational risk across global organizational models.
Xybion's combination of software, business process management, services, validation and staffing enables us to cover a broad spectrum of critical business needs for companies and we deliver our solutions on global scale. Since its founding in 1977, Xybion Corporation has supported, through software, services and consulting, 100% of the top 20 global life sciences companies. Our leadership in this dynamic and ever-changing industry has been a cornerstone of our high-value reputation.