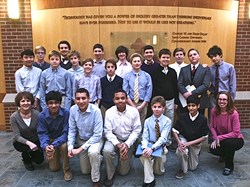 Shaker Heights, Ohio (PRWEB) January 21, 2014
Middle School students at University School's Shaker Heights Campus certainly know a thing or two about world diplomacy. The students stepped into the shoes of UN delegates from China, Ireland and Venezuela to win first place at the Junior Model United Nations Conference held recently at John Carroll University. The seventh and eighth graders won an impressive 13 awards, including four prestigious Gavel Awards at the event, conducted by the Cleveland Council on World Affairs.
The theme of the conference was "The United Nations in Developing and Developed Nations."
The University School delegates explored the interconnectedness of the world, and the UN's role in bringing countries together to solve problems. Committee topics included "Internally Displaced Persons" and "Reduction of Small Arms Trafficking in Developed and Developing Nations."
Students wrote research-based position papers from the perspective of the country they represented. They were then grouped by committees and debated their assigned topics using information from their papers.
Gavel Awards were given to Clark Austin, Rahul Jagetia, RJ McIntyre, and Sawyer Zak.
The Superior Delegation Award was given to the team of Sam Poulos and Rahul Jagietia.
Excellent Delegation Awards were given to the following teams: Dylan Siegler and Warren Coleman, David Malkin and Alex Akins, Samir Vasavada and Clark Austin, and RJ McIntyre and Firas Abboud.
Honorable Mentions were given to team delegates Ethan Whetstone and Emmet Weil, Sawyer Zak and Peter Lehmann, and Mikey Fedeli and Thomas Lipker.
The team of Will Leslie and Jack Sazima earned a Recognition by the Chair.
Eighth graders John Narouze and Darren Wang also participated as delegates at the event.
At the conference, students heard a thought-provoking presentation by Laurel School senior Lisa Peng whose father, a Chinese human rights activist, has been imprisoned in China serving a life sentence since 2004.
As the first place winner, University School has been invited to the Cleveland Council on World Affairs annual meeting in June to receive an award.
The students are coached by University School teachers Elizabeth Chois and Patty Dowd.
The Junior Model United Nations gives middle school students an introduction to the workings of the United Nations. School teams represent member countries of the United Nations and put into practice the skills of debate, compromise, conflict resolution, negotiation and more.