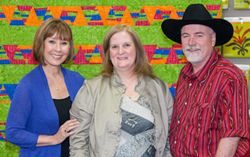 Their show is full of energy and packed with helpful information for every type of quilter.
Omaha, NE (PRWEB) January 20, 2014
Ever wonder what makes AccuQuilt tick? Dream of getting a glimpse of the Quilt Gallery and Dream Studio? Well, now you can! Ricky Tims and Alex Anderson give you an opportunity to check out the AccuQuilt facility in Omaha, Nebraska on their web series, "The Quilt Show."
Ricky and Alex take viewers on a guided tour of the AccuQuilt facility with Director of Marketing, Lynn Gibney. Viewers get treated to a special behind the scenes look inside the AccuQuilt headquarters, the famous Quilt Gallery, and the legendary Dream Studio.
In the Dream Studio, you'll enjoy a project tutorial with Linda Pumphrey, Global Sales Manager aka "global passionista." Linda shows the hosts how to create GO! Fractured Triangles, an exciting quilt with strips made with the AccuQuilt GO! Fabric Cutting System. Alex jumps in for a lesson on "squiggles" while Ricky shows how to combine charm squares with sparkling slivers of color for a stunning quilt everyone can make.
"We are incredibly excited to be on "The Quilt Show" with Ricky and Alex," said Steve Nabity, AccuQuilt Chief Energizing Officer. "Their show is full of energy and packed with helpful information for every type of quilter. We've had such a great relationship with them as spokespersons over the years. It's simply an honor to showcase our wonderful workplace on their web series."
The episode is live on January 20th. Watch it and other shows at "The Quilt Show" website on their daily blog or on the show listing tab.
About the hosts:
Ricky Tims is an award-winning quilter, author, speaker, and teacher. He is an internationally recognized quilter and promotional partner for AccuQuilt. Alex Anderson is an internationally-recognized quilter with many awards and book titles to her credit. She is also an educator and spokesperson for AccuQuilt. Together they host the world's first full-service, interactive online magazine and video show dedicated to educating and inspiring quilters world-wide.
"With over 100,000 registered members in over 100 countries, The Quilt Show.com's mission is to educate, inspire, entertain, connect and grow the world quilting community in a fun, positive and interactive environment." – About Alex and Ricky from thequiltshow.com
AccuQuilt GO! fabric cutters, dies and accessories are available at local quilt and fabric retailers. Quilters also can purchase GO!® and Studio™ fabric cutting systems by visiting http://www.accuquilt.com or calling 888.258.7913.
About AccuQuilt, Better Cuts Make Better Quilts:
Headquartered in Omaha, Neb., AccuQuilt offers quilters, fabric crafters and retailers a premiere line of fabric cutters, dies, quilting patterns and other quilt and fabric cutting solutions that help quilters quickly and accurately cut shapes for quilting and fabric crafts. AccuQuilt also offers quilters a wide variety of rich educational resources to enhance their quilting experiences. Cutting with AccuQuilt cutters is a natural evolution of fabric cutting methods. "First scissors…then rotary…finally…AccuQuilt" for fast, easy, accurate fabric cutting. Visit http://www.accuquilt.com for more information.