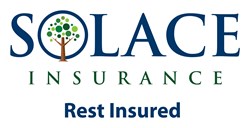 But there is a limit to what homeowners are willing to pay – if the rates continue to rise, who's to say that Florida will maintain its popularity?
Clearwater, FL (PRWEB) January 27, 2014
Flood insurance premiums have sharply risen for homeowners in several states, including Florida – one New Port Richey resident reported seeing his annual rate jump from $4,000 a year to more than $27,900 (1). Award-winning Tampa Bay-based insurance agency, Solace Insurance, says the increasing rates will likely negatively affect Florida's real estate market, posing a potential risk to the state's economy. To ease the growing strain on Florida residents' pockets, Solace officials propose private flood insurance as a more stable option for both homeowners and the state's economy.
The Biggert-Waters Flood Insurance Reform Act rate hikes took effect Oct. 1, eliminating subsidies and leaving many Florida homeowners in special hazard zones facing rising premiums – the rate increase is to help reduce the National Flood Insurance Program's (NFIP) $24 billion debt, a product of the huge payouts after hurricanes Katrina, Rita and Sandy. The resulting chaos has made flood rates soar, forcing potential buyers to recede from the Florida market:
"The market dried up — it died," says Shirley Davis, a homeowner in St. Petersburg, Fla., who has been trying to sell her $175,000 ranch-style home. The now-nearly-$4,000 in annual premiums for flood insurance on her property has caused buyers to flee. "Now, [buyers] call and the first question is, 'Is it in a flood zone?'" (2)
Bob Childress, CEO of Solace Insurance and 30-year industry veteran, says Florida's reputation for low-cost living is being threatened by the increasing rates. Because much of Florida's development borders the coast where premiums are surging most rapidly, Childress is concerned that the rates will be a deterrent for potential new homeowners looking to reside in the area.
"Generally, Florida transplants have accepted higher insurance rates as the tradeoff for benefits like climate, lack of state income tax and lower property taxes," said Childress. "But there is a limit to what homeowners are willing to pay – if the rates continue to rise, who's to say that Florida will maintain its popularity?"
Rather than forcing the state to limit flood insurance rates, Childress suggests phasing out NFIP policies and pushing more coverage to private companies. Childress emphasizes that despite the rate hikes, Floridians should retain flood insurance coverage because living in a "low-risk" area does not mean that there is no risk. People outside of high-risk areas file over 20 percent of NFIP claims and receive one-third of disaster assistance for flooding (3).
Because flood insurance is typically sold as a separate policy, he suggests considering the following points when securing or modifying flood insurance coverage with a reputable agency:

Ask an insurance agent how many active flood policies he or she has and how many they write in a month. If the active policies are over 100 and they write two to five a month, that agent is experienced in flood insurance. The ultimate measure of flood knowledge would be if the agent possesses an Associate in National Flood Insurance (ANFI) designation.
Find out how many carriers the agency represents. Look for a number over 20. Agencies with more companies typically possess proper staffing, ability and financial resources.
But, continued Childress, private companies looking to offer flood policies must ensure that they offer equivalent coverage to the federal program. Childress suggests that all residents seeking private flood insurance should ensure that the coverage is comparable to that of federal standards – Childress says homeowners, as well as business owners, should take the following steps:
1. Speak with an insurance agent or provider to ensure that coverage is comprehensive with no major exclusions. Alter policies as necessary to ensure safety in the event of disaster.
2. Keep insurance policies in safe and secure by imaging important documents and storing them in the cloud via services such as Dropbox or Google Drive – confirm that the insurance agent also takes these steps to ensure document security.
Now that NFIP has increased its premiums, Childress added, private companies can provide much-needed flexibility to the marketplace. Childress advises Floridians to seek the assistance of qualified insurance agents when looking to obtain comprehensive insurance policies.
Solace Insurance has 30 years experience specializing in flood insurance as well as auto, home, business insurance and more recently, cyber coverage.
For more information about Solace Insurance and its services, visit http://www.restinsured.com.
About Solace Insurance:
As an independently-owned, full-service agency based in Largo, Florida, Solace Insurance has provided quality insurance products to customers for over 30 years. Solace is a licensed insurance agency within the top two percent in technology use for agencies nationwide. The company also holds Premier Partner designations with multiple carriers with over $1 billion in property insured. This status is what allows Solace to offer its customers the most competitive and economical programs available, all while providing expert advice and quality service. From standard auto policies to the more complex multi-tiered insurance programs for home and businesses, Solace has the depth of resources to find the right policy tailored to each individual and/or company. For more information, visit Solace online at http://www.restinsured.com.
1.Shopes, Rich. "Anger, Frustration Spill over at Flood Insurance Meeting in Pasco." Tampabay.com. Tampa Bay Times, 18 Dec. 2013. Web. 19 Dec. 2013. tampabay.com/news/humaninterest/anger-frustration-spill-over-at-flood-insurance-meeting-in-pasco/2157669.
2."Rising Flood Insurance Rates Sinking Sales in Florida." Realtormag.org. Realtor Magazine, 31 Dec. 2013. Web. 14 Jan. 2014. realtormag.realtor.org/daily-news/2013/12/31/rising-flood-insurance-rates-sinking-sales-in-florida.
3."Flooding & Flood Risks." Floodsmart.gov. National Flood Insurance Program, n.d. Web. 23 July 2013. floodsmart.gov/floodsmart/pages/flooding_flood_risks/ffr_overview.jsp.