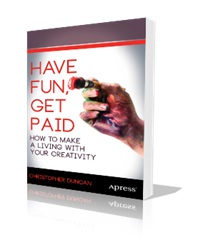 "This book teaches aspiring creatives how to learn from the example of Silicon Valley's greatest dreamers by thinking like a startup. It's worth the effort; nothing, after all, fuels creativity like a full stomach." –Christopher Duncan
New York, NY (PRWEB) January 17, 2014
In "Have Fun, Get Paid: How to Make a Living with Your Creativity," Apress author Christopher Duncan teaches artistic types how to generate revenue doing what they love and shows them the steps to do so. Although the business side of a creative industry may be the last thing an artistic individual wants to think about, Duncan explains in "Have Fun, Get Paid" why this aspect of a dream job is so important for those that want to succeed financially doing what they're passionate about.
In the book, readers will learn how to find paying jobs in their field of choice, whether it is graphic design, music, dance, starting their own company, and more. The book covers everything from how to market personal talent to hiring individuals who can help a career soar. Duncan explains the business side of an artistic career—something creative types often overlook—-and he peppers the text with personal stories and advice that keeps the material from being dry and boring. Duncan also prevents dreamers from falling victim to the usual pitfalls that come with the territory of creative careers. Readers will come away with the knowledge of how to build a solid, dependable career while having the time of their lives.
This book is meant to be a career guide for those who want to do what they love for a living, but don't have the knowledge of how to make that happen. From performers who bask in the spotlight to those who find inspiration in the midnight glow of a computer monitor, the world has no shortage of creative people. "This book teaches aspiring creatives how to learn from the example of Silicon Valley's greatest dreamers by thinking like a startup." Duncan insists, "It's worth the effort; nothing, after all, fuels creativity like a full stomach."
For more information on "Have Fun, Get Paid: How to Make a Living with Your Creativity," please visit http://www.apress.com/9781430261001.
*ISBN13: 978-1-4302-6100-1

232 pages
User Level: Beginner to Advanced
Publication Date: November 18th, 2013
Available eBook Formats : EPUB, MOBI, PDF
Print Book Price : $29.99
eBook Price: $20.99
About the Author
Christopher Duncan, bestselling author of The Career Programmer and Unite the Tribes, is a creative creature whose work includes writing, speaking, consulting, music, video and the occasional encounter with technology. In previous lifetimes he's made a living playing guitar in smoky bars of dubious integrity as well as slinging code as a software developer in cubicle city. A reformed serial entrepreneur, he's also run a marketing company and, like any good techie, bears the battle scars of several dot com adventures. He can be reached at http://www.ChristopherDuncan.com.
About Apress Media
With more than 1,500 books in print and e-formats, Apress is the authoritative source for IT professionals, software developers, and business leaders all over the world. Apress provides high-quality, no-fluff content that helps serious technology professionals build a comprehensive pathway to career success. Since 2007, Apress has been part of Springer Science+Business Media, one of the world's leading scientific, technical, and medical publishing houses, enabling global distribution of Apress publications. For more information, please visit http://www.apress.com.