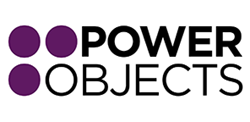 We are going really big this year; you will have to stop by our booth to find out what we have in store.
Minneapolis, MN (PRWEB) January 17, 2014
PowerObjects, the leader in offering service, support, education and add-ons for Microsoft Dynamics CRM, has announced what visitors can expect at its booth at Convergence 2014, Microsoft's biggest Dynamics event of the year. As a Convergence gold sponsor, PowerObjects will host a 20 by 20 foot booth where Dynamics customers and prospects can talk with staff members, get live demos of add-ons and enhancements, and sign up for free giveaways.
"PowerObjects is planning to take our Convergence experience to a new level," says Jim Sheehan, COO at PowerObjects. "Convergence is the number one Microsoft Dynamics event of the year and a major event for PowerObjects. We'll be sending down 30 people from our team to help get everyone excited about Microsoft Dynamics CRM."
The booth, #2321 at the Convergence expo, will be staffed by the PowerObjects team who will demonstrate the latest developments in Dynamics CRM 2013, as well as PowerObjects' PowerPack add-ons, a suite of products designed to enhance CRM functions for sales, marketing, productivity and more. Conference attendees who stop by the PowerObjects booth will be able to participate in interactive contests for prizes.
"We're expecting a lot of activity and excitement at Convergence," says Sheehan. "We're looking forward to displaying Dynamics CRM 2013 and our PowerPack add-ons. We are going really big this year; you will have to stop by our booth to find out what we have in store."
Convergence will be held from March 4-7 in Atlanta, Georgia. Dynamics users from across the country will come for the educational content, access to Microsoft product experts and networking opportunities. Some of this year's highlights include keynote speeches by Biz Stone and Arianna Huffington, as well as a live performance by FUN.
Registration for Convergence opened in October. "Get your passes now and don't miss out," says Sheehan. "Convergence is the must-attend event for anyone who uses Dynamics products."
About PowerObjects
Over the last 5 years, the team at PowerObjects has worked hard to become the recognized leader in delivering Microsoft Dynamics CRM solutions through unparalleled offerings of service, support, education and add-ons. As winner of the Microsoft Dynamics CRM Worldwide Partner of the Year award for 2012 and 2013, PowerObjects has built an unmatched team of CRM superheroes that help businesses and organizations of all types increase productivity, streamline business processes and build better relationships. PowerObjects is headquartered in Minneapolis, Minnesota, with offices in Chicago, Cincinnati, Dallas, Omaha, Philadelphia, New York, and Seattle and has over 135 employees. For more information on PowerObjects, visit http://www.powerobjects.com or call 612-339-3355.