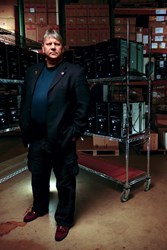 We have a long history with Three Wire and are eager for them to round out our NETCENTS 2 offerings.
Chicago, IL (PRWEB) January 21, 2014
Ace Technology Partners/Ace Computers just announced that it will be working with Service-Disabled, Veteran-Owned Small Business Three Wire Systems, LLC to fulfill NETCENTS 2 contracts with a full suite of products and services.
Ace Technology Partners CEO John Samborski said, "We have a long history with Three Wire and are eager for them to round out our NETCENTS 2 offerings. When we were presented with this opportunity, we jumped at the chance. Three Wire has an excellent reputation for providing strategically innovative services and quality products."
The U.S. Air Force's NETCENTS 2 (Network Centric Solutions 2) contract is a suite of acquisitions that provides federal agencies, including the USAF and Department of Defense, with a trusted source for standardized networking equipment, supplies and relevant services.
Through NETCENTS 2, Ace Technology Partners will be providing servers and storage, networking equipment, peripherals, software, multimedia and identity management/biometric hardware and associated software---all meeting the company's standards for industry-leading quality, top performance, and value.
Three Wire offers IT products and services exclusively to the federal market, building their reputation on eliminating wasteful spending in federal enterprise environments. They analyze IT environments and make recommendations that maximize what is already in place. This aligns well with Ace Technology Partners' focus on providing computers and related equipment designed to contain costs by accomplishing precisely what each client needs.
Three Wire CEO Dan Frank said, "We're thrilled to be working with Ace on their NETCENTS 2 contract. Our companies' product portfolios complement each other and will allow us both to offer our customers best-in-breed disruptive technologies."
Acknowledged as the best custom technology manufacturer, Ace Technology Partners (Ace Computers) is a Woman-Owned Small Business custom technology systems manufacturer and reseller for the public sector as well as the commercial sector. Their channel partners include Intel, Supermicro, InfiniBand, NVIDIA, Mellanox and Samsung among others. It has been an industry leader since 1983. In addition to some of the finest academic institutions in the U.S., long-term clients include the U.S. Department of Energy and the U.S. Department of Defense. Its principal, recognized industry expert John Samborski, is an alumnus of Intel's prestigious board of advisors. In addition to its Greater Chicago headquarters, Ace Technology Partners has locations in New Jersey, Pennsylvania, and Nevada. To contact Ace Technology Partners, call 1-877-223-2667 or visit http://www.acetechpartners.com.
About Three Wire Systems, LLC http://www.threewiresys.com/
Three Wire Systems, LLC – a Service-Disabled, Veteran-Owned Small Business – is a dynamic and multi-faceted IT consulting and solutions firm. They are positioned as the federal marketplace leader in cost containment through disruptive technologies. They are experts in engineering, IT asset management, Cloud-based solutions, reduction of power consumption, and telecommunications expense control. In 2007, the Three Wire team developed VetAdvisor, which provides proactive coaching services across behavioral health, wellness, financial, and all aspects of transition and career development.
For media inquiries, contact Jeanna Van Rensselar at Smart PR Communications;
630-363-8081; jeanna(at)smartprcommunications(dot)com.