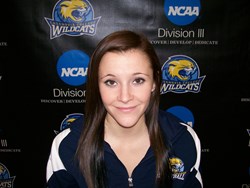 Haley Zambito became the all-time Cazenovia College record holder for three-pointers (156) made in a career, surpassing the previous record of 151.
Cazenovia, NY (PRWEB) January 18, 2014
Cazenovia College women's basketball player and West Bloomfield, NY native Haley Zambito made history on Wednesday afternoon, becoming the all-time Caz College record holder for three-pointers made in a career. The previous record of 151 career three-pointers made was set back in 2010 by Colleen Clarke, a member of the College's 1000 point club. Zambito, a junior guard for the Wildcats now sits alone atop this list with 156 career three-pointers made and counting.
"This record means a lot to me, it shows me that hard-work, dedication, and determination really do pay off. I'm honored to be a part of Cazenovia College history," said Zambito.
As if the record-breaking achievement was not enough, Zambito's contributions to the Wildcats' January 15 matchup against SUNY Cobleskill also helped lead her team to victory. Zambito scored 23 points tying a career high including six pivotal points down the stretch. With 17 seconds to go, Zambito sunk a game-tying 3-pointer and then capped off the night only seconds later with a buzzer beating three as time expired, sealing the 62-59 victory for Cazenovia.
"Our team fought that game till the end," said Zambito. "Everyone gave it all they had and put forth their greatest efforts, it's all about giving it everything you've got for forty straight minutes."
Head coach of the Wildcats Christopher Comino put it simply, "Haley stepped up when we needed it most, that's why she's a leader on this team." Zambito finished with 23 points, 3 rebounds and 2 steals connecting on 7-13 shots from beyond the arc.
Zambito's success can be attributed to her persistent work ethic and dedication to the game. She learned the importance of hard work from her assistant coach while attending Bloomfied High School. "He always pushed me to reach my potential and I still think back on the advice that he gave me to this day."
Zambito continues to improve while at Cazenovia College through the help of her teammates. "They have shown me how important it is to fight until the final whistle. We are like family and each has had an incredible impact on me as a person and as a player."
The junior guard is described by her teammates as a hard-working and motivating leader both on and off the floor. Head coach Chris Comino echoed those characteristics when describing Zambito saying, "She has a great attitude, she continues to motivate her teammates no matter what the score and when all said and done will go down as the best pure shooter Cazenovia College women's basketball has ever seen."
Cazenovia College embraces intercollegiate athletics as an integral part of its academic mission. Sportsmanship, hard work, and intensity are the cornerstones of Cazenovia College athletics. Each year, more than 30% of Cazenovia College's student body competes in intercollegiate athletics at the Division III level of the NCAA. Its teams are members of the North Eastern Athletic Conference (NEAC), the Eastern College Athletic Conference (ECAC), the Intercollegiate Horse Show Association (IHSA), and the Intercollegiate Dressage Association (IDA).