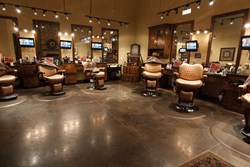 Five years of rapid growth has allowed us to perfect our service experience and business model; we're forever grateful to our loyal members and look forward to growing this family worldwide, says founder and CEO Ben Davis.
(PRWEB) January 19, 2014
Since the game-changing debut of its Frisco club in the midst of the economic downturn of 2008, The Gents Place has expanded to include new services, thousands of new members, and new locations (each nearly 50% larger than their original Frisco flagship) in Dallas, Texas, and Leawood, Kansas.
To thank its loyal members and surrounding community—while hinting at plans to rapidly expand the brand cross-country and further across Texas—founder Ben Davis will be hosting an open-house celebration this coming Monday, January 20. The event will begin at 7:30 p.m. at The Gents Place's Frisco location (6975 Lebanon Rd / Suite 303 / Frisco TX 75034) and will include complimentary food and beverages as well as cigars for the first 100 guests.