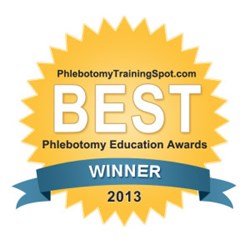 All these programs have shown an immense dedication to helping change the lives of students. - Steve Roberts, Founder
San Diego, CA (PRWEB) January 20, 2014
PhlebotomyTrainingSpot.com, a leading online resource for students searching to become a phlebotomist, today published its annual list of the top rated phlebotomy programs across the country. The nominees were voted for and rated over a three-month period at the end of 2013, and winners have been identified based on total ratings and votes received.
The Best Phlebotomy Education Awards, recognizes the top phlebotomy programs in 30 states across the United States. Each program was vying to be rated as the best phlebotomy program in each of their respective states. The complete list of the Best Phlebotomy Education Award winners in the US can be viewed here:
•Arizona: Arizona Medical Training Institute
•Colorado: Stillwater College and Accent Learning Systems
•Connecticut: Goodwin College
•Florida: Phlebotomy Learning Center
•Georgia: Atlanta Technical College
•Hawaii: Hawaii Medical Training Center
•Illinois: Oakton Community College
•Indiana: MJS College School of Nursing and Business
•Iowa: Saint Luke's College
•Kentucky: Emergency Medical Training Professionals
•Louisiana: Central Louisiana Medical Academy
•Maryland: College of Southern Maryland
•Massachusetts: Medical Professional Institute
•Michigan: Baker College
•New Hampshire: River Valley Community College
•New Jersey: Advantage Career Institute
•New Mexico: Santa Fe Community College
•New York: Trocaire College
•Nevada: Northwest Career College
•North Carolina: Care One Health Training Institute
•Ohio: Larock Healthcare Academy and Ohio School of Phlebotomy
•Oregon: Oregon Medical Training, Inc.
•Pennsylvania: McCann School of Business & Technology
•Rhode Island: 911 Programs
•Tennessee: Allied Health Careers Institute
•Texas: Central Texas Phlebotomy Institute
•Utah: Phlebotomy Training Specialists
•Vermont: Northwest Technical Center
•Washington State: Horizon Medical Institute
•Wisconsin: Moraine Park Technical College
"To determine the winner and top rate phlebotomy programs, we subjected the programs to a comprehensive voting and rating period," said Steve Roberts, founder of PhlebotomyTrainingSpot.com. "There are nearly a 1000 phlebotomy programs nationwide, and that number continues to grow as the demand for health care services continues to expand. Our goal with this awards program is to help identify programs that have tremendous support from current and former students as well as their respective communities. All these programs have shown an immense dedication to helping change the lives of students for the better through their education and mentorship."
PhlebotomyTrainingSpot.com will be expanding its ratings and Best Phlebotomy Education Awards programs in the current year with the goal to identify the top phlebotomy programs across the entire US. After announcing the 2013 award winners, PhlebotomyTrainingSpot.com will begin the 2014 awards voting period in the middle of this year.
Congratulations to each and every one of this year's winners, finalists and nominees! All of these programs are deserving of an award, and PhlebotomyTrainingSpot.com is extremely pleased to have had great participation from so many of our participants.
About PhlebotomyTrainingSpot.com
PhlebotomyTrainingSpot.com (http//http://www.phlebotomytrainingspot.com) is a free resource for prospective students and career seekers looking for phlebotomy training, jobs or general information. PhlebotomyTrainingSpot.com, serving over 100,000 visitors on an annual basis, features expert-written articles, a comprehensive directory of phlebotomy training options and forums for visitors to discuss phlebotomy topics.