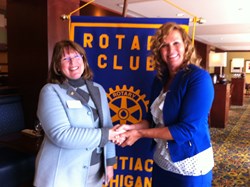 Women serve as a catalyst for so much positive change in society. If you want to lift a family out of poverty, educate the woman. If you educate the women, you educate a nation. When business includes women society wins -Lori Blaker
Rochester Hills, MI (PRWEB) January 20, 2014
As President of the Metro Detroit Chapter of the US National Committee for UN Women, Lori Blaker spoke to a packed room about the mission and goals of the Metro Detroit Chapter. "As a business leader, I have been in a unique position to observe first hand many of the challenges women face in their efforts to gain access to the workplace and achieve economic parity. In some countries young girls are so devalued that they are denied even an elementary education by their families. We are fortunate to live in this country, and by supporting the work of UN Women we can help be a voice for these young women and girls who have no voice at all."
Blaker reached out the local rotary chapter, due to the relationship between Rotary International and the United Nations. Rotary and the United Nations have a long history of working together and sharing similar visions for a more peaceful world.
In 1945, Rotarians helped draft the UN Charter. The partnership between Rotary and the UN seeks to advance the common goal of peace, engage youth activists, prevent disease, promote peace, and resolve conflict around the world. The Rotary currently holds the highest consultative status offered to a nongovernmental organization by the UN's Economic and Social Council, which oversees many specialized UN agencies.
"When we work to end violence against women and advance their economic empowerment everyone benefits," stated Blaker. "Women serve as a catalyst for so much positive change in society. If you want to lift a family out of poverty, educate the woman. If you educate the women, you educate a nation. When business includes women society wins."
Blaker is actively involved with numerous educational and mentoring organizations including: Cornerstone Schools, Eaton Academy, Women of Tomorrow, Peace for Business and others. She encourages other business leaders to use the seven Women's Empowerment Principles developed by UN Women and the UN Global Compact as guide posts for actions that advance and empower women in the workplace, marketplace and community.
President and CEO, Lori Blaker heads of one of the fastest growing women-led organizations in North America. Her leadership skills continue to be recognized by the business community. In 2012 President/CEO Lori Blaker received the "Leader of Leaders" Award from Leadership Oakland. Under her leadership, TTi Global has ranked consistently among the "Top 25 Woman-Run Businesses in the USA" as recognized by the Women's Business Enterprise National Council.
###
TTi Global provides staffing, learning, research and consulting solutions to industries across various sectors with automotive as a core focus. TTi Global oversees operations on five continents with offices spanning the globe, which include Australia, Brazil, Canada, Chile, China, India, Japan, Mexico, Peru, South Africa, Thailand, Venezuela, UK and most recently Afghanistan.
With a staff of over 2000 employees in international operations, they offer a wide range of services, tailor made to drive business goals, including business consulting, research, staffing, workforce development and learning solutions. TTi Global world headquarters are located in Rochester Hills, Michigan.