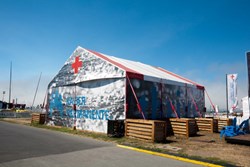 We are honored and thrilled to be included on this prestigious list
Milpitas, CA (PRWEB) January 20, 2014
The Stuart Rental Company, a leading party rentals and tent rentals company in the San Francisco Bay Area, is pleased to announce its inclusion in Special Events Magazine's 16th Annual 30 Top Rental Companies list. The exclusive list was published in the magazine's November/December 2013 issue and includes the world's top rental companies of 2013– from companies located across the United States to Canada and the UK. Based on size and estimated revenue, Stuart Rental was ranked #23.
"We are honored and thrilled to be included on this prestigious list, amongst the finest rental companies in the world," says Andrew Sutton, EVP of The Stuart Rental Company. "We take pride in providing quality party rentals throughout the San Francisco Bay Area for the past 100 years, and being named to this top 30 list in 2013 is confirmation that we're doing things right."
According to Special Events Magazine, the top 30 list is an "annual look at the biggest players in party rental." It provides a brief bio for each company – including location, website, top officers and a look at their current events, most popular rentals and a forecast of what's to come in the industry. The magazine says that despite covering a wide variety of companies from different markets and countries, they all seemed to share a similar message: "growth is coming back – albeit slowly."
The article states, "Taken as a whole, the 30 companies listed here pull in more than $796 million in revenue annually, and show a 7 percent boost over last year's tally. Lead times and client budgets stay tight—and if it's rustic, it's renting!"
In the article, Stuart Rental's bio states that in 2013, the company has been busy with corporate and social events as well as public events, notably the America's Cup. Stuart Rental's most popular rental trends in the past year included premium linen, unique tenting, specialty decor and custom furniture.
A full report of the 30 Top Rental Companies can be downloaded here. For more information about Stuart Rental, visit http://www.stuartrental.com.
About The Stuart Rental Company
From weddings and birthday celebrations to corporate events and fundraisers, The Stuart Rental Company is dedicated to helping its customers celebrate life's most memorable events. The Stuart Rental Company is comprised of a group of dedicated professionals, with years of event expertise, who care about your event. With showrooms located in Milpitas, Mountain View and Castro Valley, the company has provided quality party rentals and tent rentals throughout the San Francisco Bay Area for over 100 years.
Stuart Rental offers a large selection of tent rentals including various size tents, lighting, drapery, staging, dance floors, etc., as well as party rentals, including tables, chairs, linens, china, flatware, glassware and much more. Stuart Rental not only has the products to realize your event vision, but we have the expertise and dedication to make your event a true celebration of life. Like us on Facebook and follow us on Twitter @stuartrental.