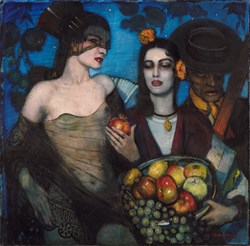 (PRWEB) January 21, 2014
After moving to Barcelona to study, King Alfonso XIII of Spain attended an exhibition of Beltrán-Masses's in Madrid and became an early patron of the artist. Beltrán moved to Paris in 1918 and then exhibited at the XII Venice Biennale in 1920, in a pavilion dedicated solely to his work. There it earned the artist praise: critic Camille Mauclair described Beltrán's talent as 'like Veronese, like Tiepolo, like Tintoretto… a picture is lyrical drama.'
Reports of Beltrán's fame reached the United States by 1921; a paragraph in American Art News mentioned the success of Beltrán's first Paris exhibition, and in 1924 the painter was invited to exhibit at the Wildenstein galleries in New York City. A sell-out exhibition in Palm Beach, and show in Los Angeles followed in 1925. Such was Beltrán's fame a year later that Martha Graham titled a dance in her first public performance in New York Portrait – Beltrán-Masses.
Beltrán-Masses found favor in Hollywood too, where he painted portraits of screen legends Gloria Swanson, his great friend Rudolph Valentino, of Joan Crawford and Douglas Fairbanks Jr. Beltrán painted or sold his work to some of the most renowned personalities of the Golden Age of Hollywood including Charlie Chaplin, newspaper columnist Louella Parsons, actress Marion Davies as well as her lover William Randolph Hearst (who purchased four paintings by the artist and whose portrait he painted).
Whilst Beltrán's portrait subjects included the Kings of England and Spain, Princes and Princesses, Hollywood stars, and society on both sides of the Atlantic, he was particularly sought out by women who rejected convention. We will show in Miami a portrait of aviator and socialite Mme. Bonnardel, Countess Montgomery, whose Chanel dress is in the Met Costume Institute, and a portrait of the Fashion icon Marquesa Luisa Casati.
Born in Cuba and raised in Cuba and Barcelona, the painter's Hispanic heritage would influence his oeuvre throughout his career across the globe. Beltran painted enigmatic, languorously posed women and nudes, often in nocturnal settings characterized by their nocturnal light and open starry skies. These allegorical paintings are rich with musical and poetic references and like his friend, the painter Kees van Dongen, Beltrán captured the escapism that characterized post-First World War society and the Jazz age.
Further information, JPEG images and a 180-page catalog on the artist is available upon request from the gallery.